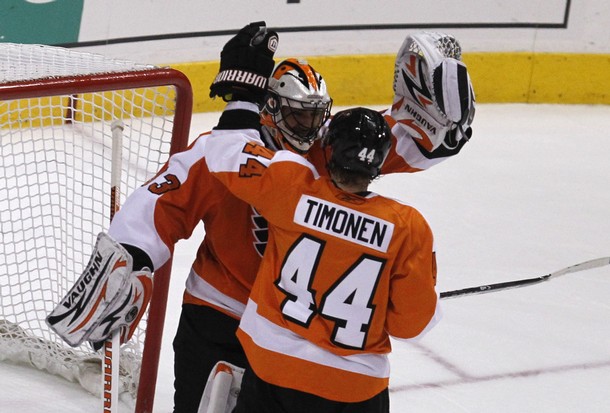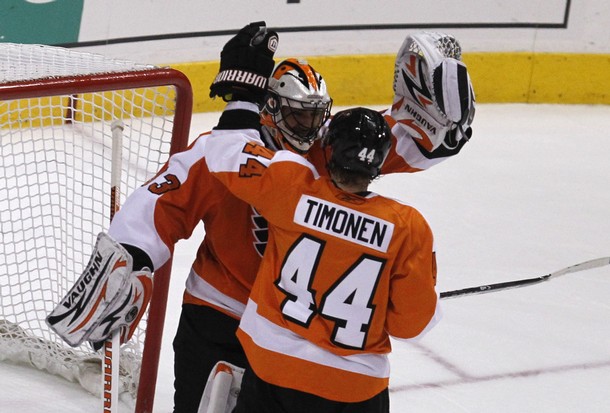 The Flyers have fared decently in the first two games of the 2011 NHL Playoffs, tying the series last night against the Buffalo Sabres, but many have been left wondering when Chris Pronger will finally make his postseason debut.
As of now, he will not be available for game three and the rest of the series seems doubtful.
At the time that Pronger first went under the knife in mid-March, general manager Paul Holmgren suggested that the surgery would help expedite the healing of his right hand. Two weeks later, he experienced an ominous "setback." One month later, he is still only skating during practices.
Pronger has been particularly ornery with the media whenever the subject comes up, not that anyone blames him. Based on the facts laid out, it's anyone's guess when he will be healthy enough to play. I am expecting the worst, though- that he will not return for the remainder of the year.
Andreas Nodl is another Flyer to add to the list of injured players. According to CSNPhilly, Nodl received a "nasty cut under his right eye." Should Nodl sit for game three, Nikolai Zherdev is expected to take his place in the line-up. Zherdev has played well with Jeff Carter and Claude Giroux, but so has James Van Riemsdyk.
The starting goaltender for game three is also up in the air. Coach Peter Laviolette has given Sergei Bobrovsky the opportunity to rebound after poor performances in the past, but the playoffs are a completely different animal from the regular season. His teammates took the blame for the lack of defensive support, but Bobrovsky was in poor positioning for all three goals.
Brian Boucher, on the other hand, was credited for having a steady, calming presence by both his teammates and the coach. Having backed this team in the playoffs last year, it seems like a no-brainer to run with the veteran. Boucher was first off the ice at the optional skate today, which suggests he will start tomorrow.
Game three starts at 7:00 tomorrow night.
For the latest Flyers news and in-game updates, you can follow me on twitter (@JoshJanet).