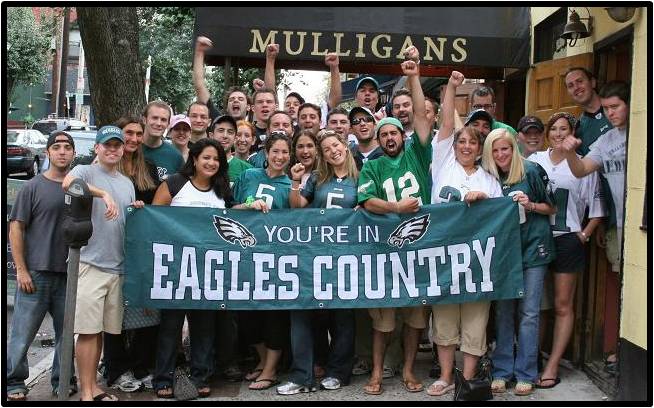 On behalf of all football fans I would like to thank the greedy NFL players and owners for an off season of Mel Kiper Jr.. As it stands right now the only actual football talk fans get is Kiper and his slicked back hair. If the fans are lucky Mel will get into a "heated debate" with Todd McShay about who will be the best available player in the 4th round. Who gives a BLEEP!
Believe it or not, the NFL Lockout has deprived fans already, there is no free agent talk or drama about who the Eagles failed to sign, no players missing their spring workouts, and no days like Stacy Andrews Day. Yes, this Eagles fan yearns for Stacy Andrews Day.
There is an old saying that goes "Absence makes the heart grow fonder", the NFL draft has yet to occur, but this Eagles fan already misses football. The past 11 years, fans would get heated and call in radio shows in March, April, and May about the stupid moves and comments the Eagles made. As I sit here in mid April this year, I find myself missing Andy Reid and his arrogance, Joe Banner's smugness, and Jeff Lurie's Jeff Lurieness.
I have come to realize in this off season how much I miss getting angry at Andy Reid and Joe Banner. I tried focusing my anger on the Phillies but they are too good. It is not the same without football rumors. At the end of last season, I was preparing myself to campaign for Nnamdi Asomugha all off-season, and in the event the Eagles passed on him and tried selling the fans that Dimitri Patterson is just fine at corner back, I upgraded my cell phone plan to unlimited minutes so I could call WIP and complain. The NFL lockout has deprived me of that chance.
Now granted its only April, and football fans shouldn't panic. There's plenty of time to get a deal done before the season, but was
there ever a time Eagle's fans did not panic. We are the same people who panicked when Andy Reid went to Jeff Garcia back in '06 instead of A.J. Feeley. We were wrong, but we panicked. If the fans are going to panic about who the back up quarterback is, shouldn't we panic about whether or not there will be anything to panic about this fall?
I am pressing the panic button for all football fans (even Cowboys fans). I am sick of seeing owners cry poor, and players cry slavery. At the end of the day the players and owners are still going to be millionaires and billionaires. Can both the players and owners stop trying to win the fans over with stupid PR stunts and just get a deal done?
I beg the owners and players to just agree on something anything! I want my Stacy Andrews Days back. I want to worry about Desean Jackson showing up on time for training camp. I want Joe Banner to come out and say the Eagles are the best team on paper, then call into radio shows insulting him for his dumb comment.
The owners say they are getting screwed and the players say they are getting screwed, but it's the fans who are really getting screwed the worst.
We love football and its tradition. The greedy players and owners are threatening to take that tradition away from us, all over money. Yes, that sports today I understand that, but man, it sucks.