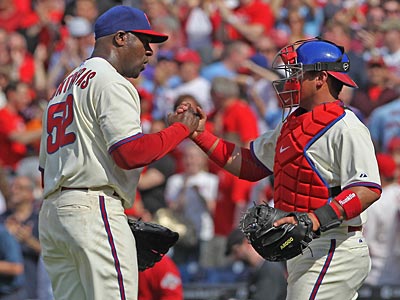 Jose Contreras has done a great job, so far filling in for Brad Lidge as the Phillies closer. Contreras is a perfect 4/4 in save opportunities, and has yet to allow a run this season. He hasn't always pitched clean ninth innings, occasionally walking a batter or allowing a base hit, but he's gotten the job done to this point.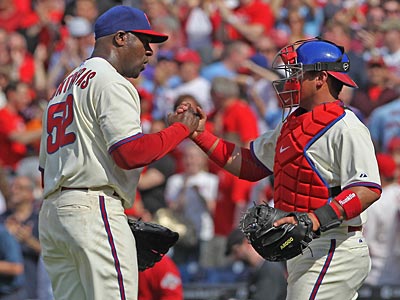 If Contreras continues to be successful in the closer's role, it's going to create questions about whether or not Brad Lidge should be given an opportunity to return to the closer's role when he comes off of the disabled list.
I think it's in the best interest of the Phillies for Brad Lidge to return to the closer's role. If Lidge is going to contribute to the Phillies this season, it's going to be as a closer. He has never been used effectively in any role other than as a closer. If he can't close effectively, he won't be of any use to the Phillies to in any other role.
If Lidge can come back and show that he is still a viable option to close games, the Phillies could return Contreras to the seventh inning role. The seventh inning has been an issue so far for the Phillies this season, with David Herndon, Danys Baez, Kyle Kendrick, J.C. Romero, and Antonio Bastardo all being unreliable options, so far. None of these pitchers have shown that they are capable of consistently succeeding in anything other than a mop up role.
Returning Contreras to that role would provide more stability to a bullpen that is short on quality arms.
Contreras seems to be content with whatever role the Phillies assign to him. He isn't the type of reliever that struggles with a mental approach towards pitching a different inning, other than what he is normally used to. Last season Contreras role changed throughout the season, he moved from the seventh inning role, to being the set-up man in the eighth inning, to the closer's role. Moving Contreras around a little more this season wouldn't have the effect that it might have on other pitchers.
There is still a long way to go before Brad Lidge can even think about returning to the Phillies this season. Luckily for the Phillies, Jose Contreras has shown that he is up to the challenging of serving as the team's closer, a position that is critical for any team with championship aspirations to have. If Lidge still perform at a high level, it will only make the Phillies bullpen stronger. Because of the versatility of Contreras, the Phillies have nothing to lose by giving Lidge an opportunity when he returns.