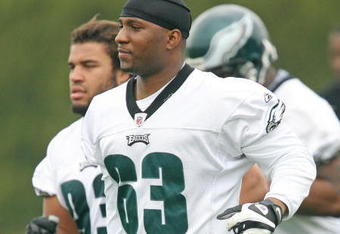 Most NFL draft geeks (myself included) had Daniel Te'o-Nesheim ranked around the top 150 players in last years Draft. I even had the Eagles selecting him in one of my Mock Drafts a year ago, but it was with one of their later 4th Round picks. Te'o-Nesheim had a
tremendous 2010 NFL Combine workout where his measureables were off the charts, but he is another classic case of a player who has no real position to play in the NFL..
He's too small to play with his hands down as DE and he doesn't have the coverage abilities to play out in space as a OLB in a 4-3, (similar to Chris Gocong, Bryan Smith selections from earlier drafts) Teo is probably best suited as a pass-rushing OLB in a 3-4, that would be a good fit for a team like the Chargers, Steelers, Ravens, Patriots and Jets. He would simply be on the field on passing
downs where he would be rushing the passer.
As another high-motor defensive player, Te'o Nesheim should be a major contributor on special teams.
You don't draft a player in the top 100 (within in the first 3 Rounds) to be Special Teams players..
The Eagles need to examine their thinking when it comes to drafting in the 3rd round because it has been a disastrous round for the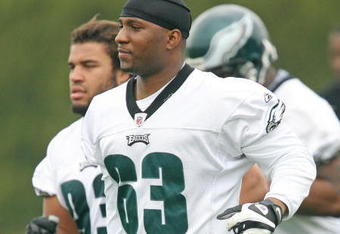 Eagles in recent years, where they have had minimal production and way too many misses. 3rd Rounders should be able to compete for starting positions by their second year. A number of the Eagles selections in this round never started a single game for the football team and are no longer on the roster. Here's a quick look at Round #3 for the last six drafts.
2005 – RB Ryan Moats, Louisiana Tech (the next Brian Westbrook???) only ran the ball in college, unable to pick up blitz and passing game, played two year for Houston Texans, didn't play in 2010, currently on Vikings roster
2006 – DE Chris Gocong, Cal-Poly Tech (a prolific pass-rusher in Division II) started for three years at Sam linebacker for Eagles then was traded, playing middle linebacker for Cleveland Browns
2007 – RB Tony Hunt, Penn State (had potential, then was switched to FB??) Never started a game for Eagles, Out of the NFL after 2008 season,
2007 – LB Stewart Bradley, Nebraska (solid player with history of injuries and missed his Senior year) recovering from injury
2008 – DE Bryan Smith, McNeese State (on no one's radar for a top #100 Pick) played a year for Jaguars, never started a game for the Eagles, Out of the NFL after 2009 season.
2009 – Traded out of the 3rd Round all together
2010 – DE Daniel Te'o Nesheim, Washington – (projected around the mid 4th to 5th Round selection)
This is not a very good track record for 3rd Round Selections..