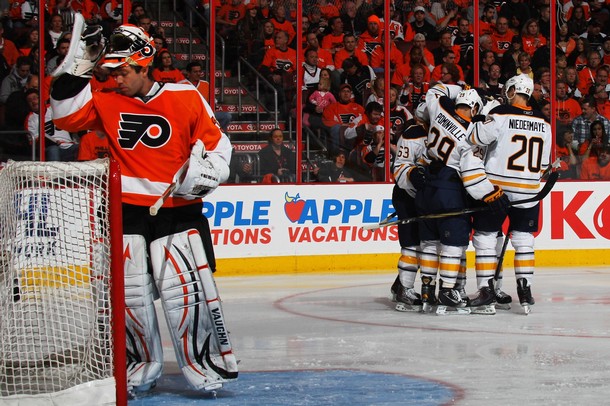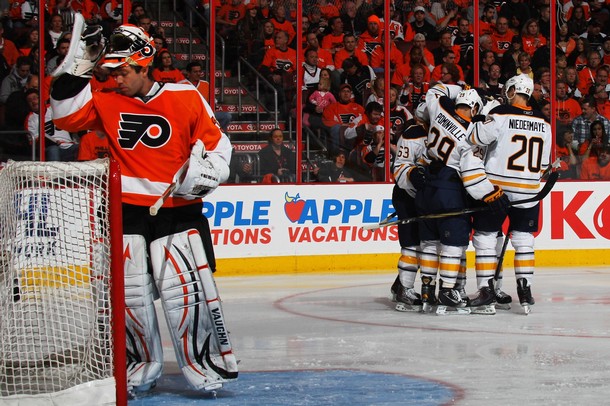 With their backs up against the wall, the Flyers have run out of time to fix the problems that have plagued them in their series against the Buffalo Sabres- penalties, powerplays, and inconsistent efforts from both the offense and goaltending.
Truth be told, if the offense was able to provide support in Game One or Game Four, goaltending wouldn't have been a question at all. Both Sergei Bobrovsky and Brian Boucher performed better than many other goaltenders around the league, including Roberto Luongo (shelled in back-to-back games), Marc-Andre Fleury, and Antti Niemi.
With the appearance of Michael Leighton after a terrible outing by Boucher in Game Five, though, nobody has any idea who will start on Sunday. Coach Peter Laviolette told reporters, "I will have to sleep on that… and then probably give you nothing."
They could turn back to Bobrovsky, who has been a healthy scratch for the last two games. The organization hoped that he would "get hot" by the time the playoffs started, but with the team playing so poorly over the last month and a half of the regular season, it didn't happen.
Based on his comments and body language after Game Two, it appeared that the pressure of 36 years of disappointment had overtaken the 22 year-old netminder. Watching from the press box may have given him a sense of what to expect if he goes back in, but I would be surprised if the coaching staff granted him another opportunity.
Michael Leighton is currently occupying Bobrovsky's stall in the locker room.
Leighton could be given the nod to start, but despite only allowing 1 goal on 21 shots, he kicked too many rebounds back out into the crease for my comfort. One could make the argument that the team played better in front of him, clearing the puck away for the majority of the rebounds, but there's a risk associated with that.
There's also a risk that turning back to Boucher could seal the Flyers' fate if he buckles early again, but as a mainstay for the team the entire season, he deserves the start. He indicated after Game 5 that he would like a shot at redemption, and when he's not trying to cheat with his positioning in the net, he's been fine. In fact, his save percentage is in line with Ryan Miller's (0.929 versus 0.933).
You can fault the organization for not spending more time and money searching for an elite goaltender (what else is new), but it's a moot point in this discussion. These are your goaltenders, and one of them will have to stand on his head if the Flyers are to force Game Seven.
For in-game updates and the latest Flyers news, you can follow me on twitter (@JoshJanet).