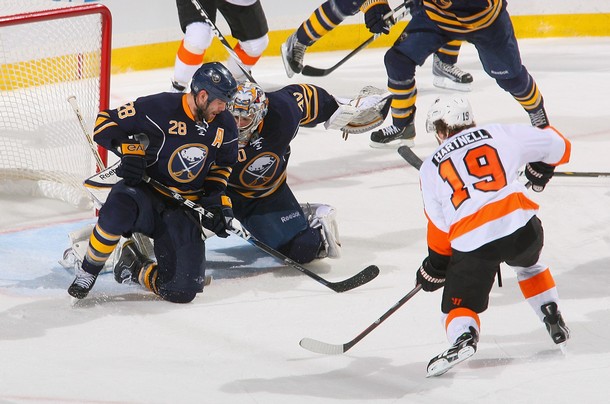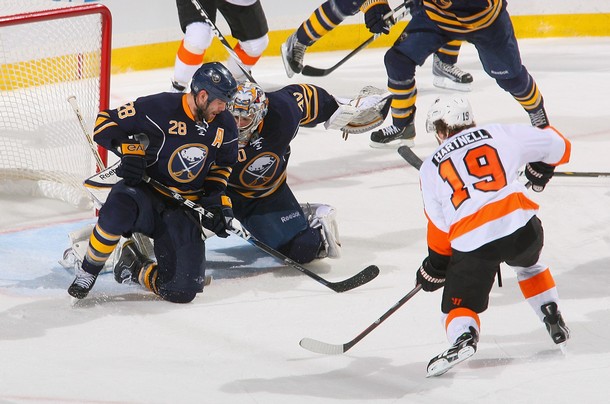 The weather outside of the Wells Fargo Center is beautiful and the Flyers have finished loosening up with a soccer ball outside of the locker room in preparation for Game 7. The puck drops in less than half an hour and the atmosphere is optimistic as the Flyers hope to clinch their Stanley Cup Quarterfinal series with the Buffalo Sabres tonight.
Patrick Kaleta, Mike Grier, Jason Pominville, Tim Connolly and Jordan Leopold are not expected to be in the line-up for the Sabres, but forward Derek Roy is. It's a shame that Kaleta won't be on the ice- his attempts at riling Danny Briere and Scott Hartnell by making fun of their divorces resulted in three goals between the two of them in Game 6.
Brian Boucher will start in net as announced after Game 6, but in a surprise development, Sergei Bobrovsky has been named the back-up. Even more shocking  (well, not if you think about it), Michael Leighton was demoted to the fourth position in the Flyers goaltending depth after his performance on Sunday. Johan Backlund has been bumped up to third.
There is a lot to read into that demotion and what it means for the organization's offseason plans for the goaltending position, but its too early discuss while there is playoff hockey to be won.
The Flyers' line-up will otherwise match what was on the ice on Sunday. Chris Pronger may see increased ice time, but not by much.
There is no margin for error. No more soft goals, no more missed coverage (I'm looking at you, Carle), no more failed clears, no more lazy penalties. If the Flyers play as they did in the first half of the season, the second round is within arms reach.