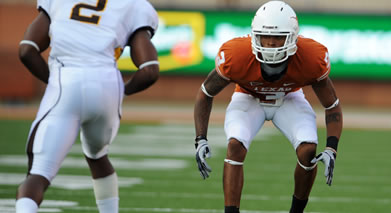 The Bird's have a history of trading up and down the draft and that strategy most likely will continue. They'll be in position to select the players they want where they want.
In 2010, the Eagles held workouts and/or visited 39 prospects and drafted 4 of them. This year I believe they'll land 6 players they closely examined.
The players I believe Reid will draft are…..
1. Curtis Brown: Brown is not as physical as Jimmy Smith, but he still has good size. The Eagles likely value both corners the same and will trade down in order draft Brown in the 2nd along with acquiring and additional pick.
2. Benjamin Ijalana: Let's see…..Good in pass protection; Versatile; 4 year starter….I believe this will be the Eagles next right guard.
3. Brandon Fusco: Even if Jamaal Jackson stays healthy, the Eagles are probably going to replace him soon. It just won't be Mike McGlynn long-term. Look for Fusco to be drafted early on Day 3.
4. Alex Green: It's not that the Eagles don't like big running backs. There are few that fit their style of offense. No matter what the size of the back is, he has to be able to contribute in the passing game (catching and blocking). Green would fit this need.
5. Ross Homan: The Eagles likely believe they have their starting linebacker unit with Stewart Bradley, Jamar Chaney and Moise Fokou. They still need depth/special teams contributor and Homan could be a decent Day 3 acquisition.
6. Tyrod Taylor: After Michael Vick's 2010 success, Andy Reid and Marty Mornhinweg probably believe they can turn any mobile QB with a decent arm into a quality signal caller. Taylor should be available in round 6.