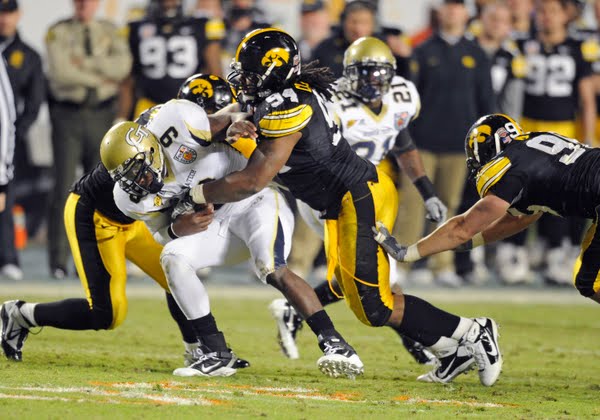 The Eagles aren't going to take an offensive lineman in the first round of this year's draft. They need an offensive guard, but they would get one later in the draft because they don't think an offensive guard has the value to draft in the first round unless they're spectacular.
Eagles General Manager Howie Roseman has said over and over during numerous appearances on local radio or television that this draft is deep on the offensive line.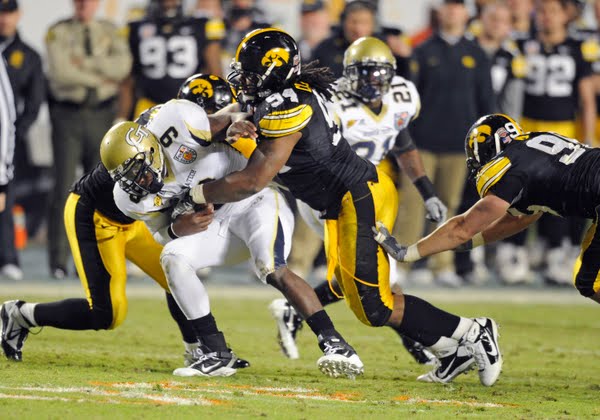 They're going to draft somebody who can play the right guard position, but it will be in the third or fourth round, plus they're going to give last year's center, Mike McGlynn, a chance to start at that position.
They're in desperate need of help at their right cornerback position, so Colorado's Jimmy Smith is a leading candidate to be their choice. The top two cornerbacks in this year's draft Patrick Peterson and Prince Amukamara will be gone when the 23rd pick comes up.
Even though they have said that they like this Smith, they could be blowing smoke. We won't know until they're on the clock with Smith still on the board. I think they will take him, if he's there.
The other option for the Eagles will be drafting a defensive end. This draft is deep in defensive ends and Roseman has stated that fact numerous times. Although they drafted three defensive ends in last year's draft, they still don't have a consistent pass rush.
Last year's first round pick Brandon Graham is unproven and coming back off of knee surgery. so they can't depend on him this year. Third round choice Daniel Te'o Nesheim may be a bust. He was terribly over-matched last year and didn't look like an NFL football player. Fifth round pick Ricky Sapp was on Injured Reserved a year ago and also hasn't proven he can play.
All of that means the Eagles still need help at defensive end, so I wouldn't be surprised if they draft a defensive end, so let's take a quick look at what's there.
Da'Quan Bowers of Clemson was expected to be the top defensive end in this draft, but now his stock is dropping and he'll likely be there when the Eagles draft. Teams have been turned off by problems with Bowers knee and a poor workout at his Pro Day. He still has amazing potential, but it all depends on how the Eagles rate him. They might see him as a steal at 23, but I think they will pass on him.
It's a definite that Robert Quinn of North Carolina will be gone. He is the number one rated defensive end on the board now.
J.J. Watt of Wisconsin is a big monster of a defensive end who can play, but I think he fits better with a 3/4 team and likely won't be around at 23. Cameron Jordan of California and Cameron Heyward of Ohio State are big defensive end who are also 3/4 type defensive ends. They're not the speedy, pass rush guys which the Eagles like, so I don't think the Eagles will be interested in them.
Aldon Smith of Missouri and Ryan Kerrigan of Purdue are guys, who have tremendous size and speed. Their upsides are out of this world because of their pass rushing ability. I think the Eagles will draft either one of them if they're still on the board, but neither is likely be around at 23.
The next guy in line is Adrian Clayburn of Iowa, who may be there when the Eagles pick. I think he could play in a 3/4 or in a 4/3 and he's a tremendous pass rusher. Clayburn is bigger than most of the defensive ends, 6'3″ 280 pounds, which the Eagles have selected in the past. I personally like him, but the Eagles may think he's too big.
I think he will be the Eagles choice if Jimmy Smith isn't there.
The other option the Eagles will have is trading down. Roseman said the Birds have been getting plenty of calls by teams, which have quarterback needs, who are interested in trading their second round pick with the Eagles in order to get that 23rd pick in the first round. These teams like the Arizona Cardinals, San Francisco 49ers, Tennessee Titans, Cincinnati Bengals, and Minnesota Vikings are all in need of quarterback help, but they don't believe the quarterbacks they'll get a shot at are worthy of being drafted at the top of the first round.
We all know Cam Newton and Blaine Gabbert will be gone after the fifth pick in the draft. The previously mentioned QB-needy teams don't have Jake Locker, Andy Dalton, Ryan Mallett, Colin Kaepernick and the other quarterback prospects rated high enough on their draft boards to take them before the end of the first round. So that's where the Eagles 23rd pick comes in.
The Eagles won't choose option until the last minute. These quarterback needy-teams will be on the phone with the Birds, if the quarterback prospect, which they like is still on the board when the Eagles are on the clock.
Bottomline as I see it, the Eagles' first option will be drafting cornerback Jimmy Smith, the second option will be drafting defensive end Adrian Clayburn and the third option will be trading down to the top of the second round and getting additional picks.