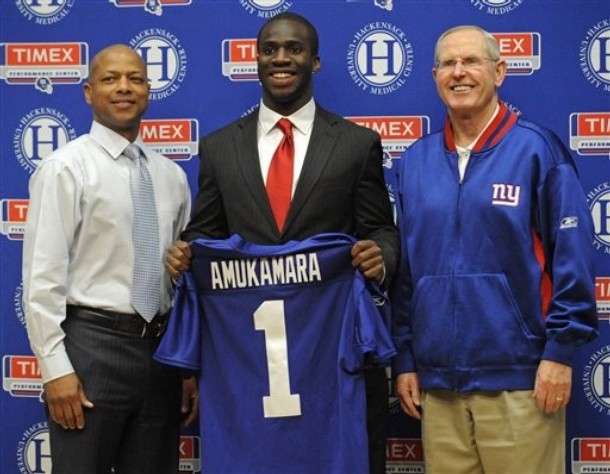 I'm going to give 2011 draft grades to the four teams in the NFC East: Philadelphia Eagles, New York Giants, Dallas Cowboys and Washington Redskins. Understand that draft grades just a few days after the draft are for entertainment purposes only because nobody knows how these players are going to pan out. Sometimes the fifth round picks winds up being much better than your first round pick. There have been times when a free agent is better than all the other picks in your draft. The only thing you can see from the picks that these teams have made is which teams have addressed their needs and which teams haven't.
Here are their picks and my grades.
Philadelphia Eagles
1st: Danny Watkins (OG) Baylor
2nd: Jaiquawn Jarrett (S) Temple
3rd: Curtis Marsh (CB) Utah State
4th: Casey Matthews (LB) Oregon
4th: Alex Henery (K/P) Nebraska
5th: Julian Vandervelde (G) Iowa
6th : Jason Kelce (C) Cincinnati
6th: Brian Rolle (LB) Ohio State
7th: Greg Lloyd (LB) UConn
7th: Stanley Havili (FB) USC
The Eagles addressed a severe need on the offensive line by drafting Baylor guard Danny Watkins, who was the best guard in the draft. I don't think the value is high because you shouldn't need to use a first round pick on a guard. Temple safety Jaiquawn Jarrett can hit well enough to start in the NFL but I don't know if he can deal with the NFL passing game.
In the 3rd round, Utah State's Curtis Marsh has the raw skills to eventually be a quality NFL cornerback, but he won't be ready to do it this year because it will be only his third year at the position. Casey Matthews improves the team's depth at linebacker position, but I don't know if he's a starter. Nebraska kicker Alex Henery, who will be the replacement for David Akers, has a big leg but there's no telling that he'll be able to make the big kicks with the game on the line.
I will give the Eagles and B- on their draft. They picked one definite starter, Watkins, with Pro Bowl potential, three contributors, Jarrett, Marsh and Matthews, along with a kicker.
New York Giants
1st: Prince Amukamara (CB) Nebraska
2nd: Marvin Austin (DT) UNC
3rd: Jerrel Jernigan (WR) Troy
4th: James Brewer (OT) Indiana
6th: Greg Jones (ILB) Mich St
6th: Tyler Sash (S) Iowa
6th: Jacquian Williams (LB) S. Florida
7th: Da'Rel Scott (RB) Maryland
The Giants went into the draft with severe needs on their offensive line at the tackle position. They were expected to take a tackle in the first round, but they couldn't turn down cornerback Prince Amukamara. He'll be able to come in and start right away.
In the second round, they had another impact player fall to them and I'm talking about defensive tackle Marvin Austin, who has Pro Bowl potential. He didn't play last year because of a suspension, but he could make their defensive line totally unstoppable.
The Giants have great size in their receiver corps, so they add a little, quick and speedy wideout, Troy's Jerrel Jernigan, to the group. They'll try to get him out in the open field and allow him to make plays. In the fourth round, they got their tackle in Indiana's James Brewer, but it's going to take some time before they put him on the field.
I will give them a B+ for this draft. Two starters and potential Pro Bowlers, Amukamara and Austin, plus a contributor in Jernigan.
Dallas Cowboys
1st: Tyron Smith (OT) USC
2nd: Bruce Carter (OLB) North Carolina
3rd: Demarco Murray (RB) Oklahoma
4th: David Arkin (OG) SW Missouri State
5th: Joshua Thomas (CB) Buffalo
6th: Dwayne Harris (WR) East Carolina
7th: Shaun Chapas (FB) Georgia
7th: Bill Nagy (C) Wisconsin
I thought the Dallas Cowboys did a good job of addressing a severe need at the offensive tackle position with Tyron Smith. He'll be a starter from day one and could be a Pro Bowler in a year or two. They didn't do much for their secondary which is undermanned and will continue to be a problem. Bruce Carter could be a special player for them and another pass rusher and playmaker.
I like running back Demarco Murray because he's an ideal backup and third down back with big play speed. They got more offensive line help by grabbing Southwest Missouri State guard David Arkin in round four. This young man will have time to sit and learn.
I will give them a B for the draft. They've drafted two starters and a definite contributor.
Washington Redskins
1st: Ryan Kerrigan (OLB) Purdue
2nd: Jarvis Jenkins (DT) Clemson
3rd: Leonard Hankerson (WR) Miami
4th: Roy Helu (RB) Nebraska
5th: Dejon Gomes (S) Nebraska
5th: Niles Paul (WR) Nebraska
6th: Evan Royster (RB) Penn State
6th: Aldrick Robinson (WR) SMU
7th: Brandyn Thompson (CB) Boise State
7th: Maurice Hurt (OG) Florida
7th: Markus White (DE) Florida State
7th: Christopher Neild (DT) West Virginia
The Redskins have a glaring need at the quarterback position, but they didn't address it. I think drafting defensive end Ryan Kerrigan in the first round was a good move by the Skins. He'll start right away and he has All-Pro potential. Kerrigan, who plays both the run and the pass equally as well, will team up with Brian Orakpo to give Washington a formidable pass rush.
They made another good move by grabbing Clemson nose tackle, Jarvis Jenkins with their second pick. He will step in there and be an anchor at their nose tackle position or at one of the defensive end spots.
Third round selection, Miami wide receiver, Leonard Hankerson will add some size and deep speed to the Redskins wide receiver group. They'll try to team him with the diminutive Santana Moss to put pressure on secondaries.
Mike Shanahan and crew hope they've found a running back in either Nebraska's Roy Helu or Penn State's Evan Royster.
I'll give them a B+ because I think they drafted three starters, Kerrigan, Jenkins and Hankerson.
Remember again, this is for entertainment purposes only.