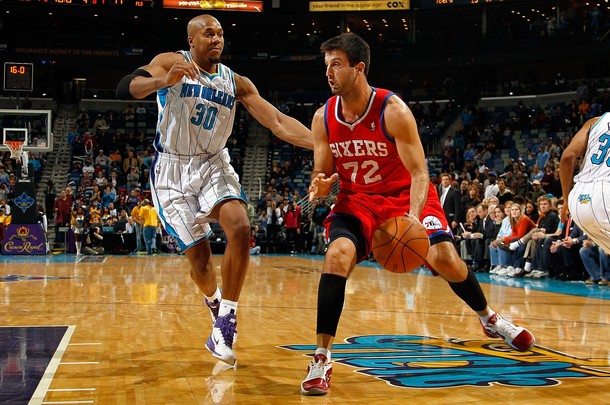 Over the next couple of weeks I'll be conducting exit interviews for the 2011 Philadelphia 76ers roster. In these interviews we'll look at the players season at a glance the pros, cons, ups and downs. Ultimately determining whether that particular player will return for the 2011-12 campaign.
Let's get started with Jason Kapono and Darius Songalia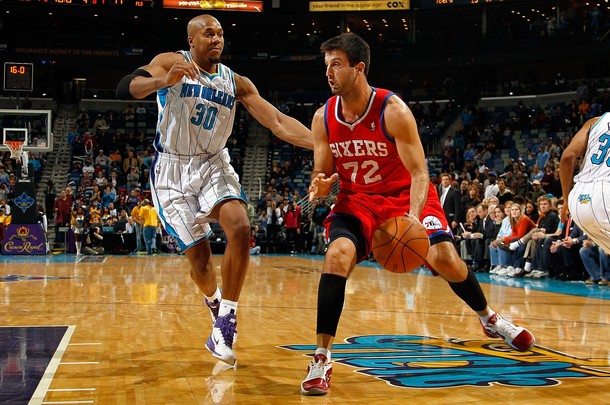 (Spoken in the voice of Doug Collins)
Gentlemen, you both were brought in to solidify and provide depth to our bench. Jason, in your case as a scorer, I saw you as a primary force in our transition game. I even focused much of my attention on you during the training camps and preseason to prepare you for that role. For some reason things fell apart early on in the season and we never got back on track. The progression of Evan Turner and Jodie Meeks placed you in a serious battle for minutes – your struggles as a defender played a huge role as well.
I tried to work you in spot duty when players were injured or when the game was well in hand but you never seemed to be involved. Our attempts to link you with an organization that could use your services were unsuccessful. With that being said we will not be extending a contract to you and you are allowed to test the free agent market, Good luck to you.
Darius, you were in a prime position to work your way into the rotation and share minutes with Elton Brand and Marresse Speights. Your experience and rugged play could've been invaluable to us in games where teams took the liberty of going in the lane at will. Instead we had to rely on Marresse Speights who in the long run became more focused on scoring and became a liability on defense. As in the case with Jason you ended up being tossed in a battle for minutes as the season wore on we were in no position to
risk the cohesion of our reserve unit by trying to work you in to the rotation instead we opted to sit you for the duration. You are free to test the free agent market. Good luck to you.
Next Tony Battie and Andres Nocioni