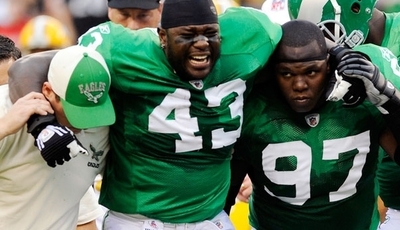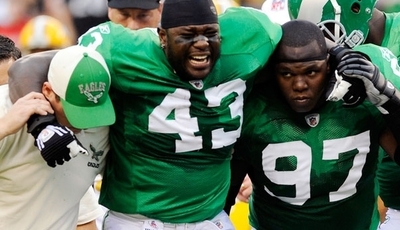 "As far as me coming back next season? It seem(s) like a long shot even thou(gh) I'm optimistic about the whole situation," Eagles fullback Leonard Weaver tweeted yesterday, "And just a quick update for everyone…..the rehab is going great, Kevin Wilk and his staff are doing their job the right way."
I knew Weaver was going to have a tough time coming back to action when his leg bent backward in what was an ugly knee injury last season in the opening day loss to the Green Bay Packers.
Normally when a knee is bent backwards like that, nerve damage is the result and you will probably need Nerve Control 911 to reduce the pain that was the case with Weaver.
It's commonplace for NFL players to come back from knee injuries, but it's not an everyday thing for players to come back from knee injuries with nerve damage.
I've talked to Weaver a number of times during this process and he's been upbeat about it, but he hasn't gotten detailed with me about how far along he is in his comeback.
During this time of rehabilitation the veteran fullback has consistently tweeted about his workouts.
The Eagles fullback situation will consist of Owen Schmitt and draft pick Stanley Havili. Schmitt is a good blocker and pass receiver, but not much of a runner. Havili is a good runner and receiver, but not much of a blocker.
Weaver had been able to do all three very well. Andy Reid probably drafted Havili to see if he could improve his blocking and add a faster ball carrier and receiver to his group of weapons. If Havili can improve his blocking he's got a chance to make the football team.