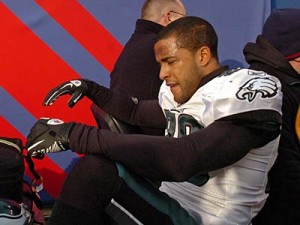 DeMaurice Smith and the rest of the NFLPA's legal team have been busy preparing a response to the NFL's appeal to the 8th Circuit Court, requesting a stay. In the letter, they will most likely argue that the over 900 players who are currently unemployed or free agents are being hurt by the stay, and should be given the right to negotiate with teams.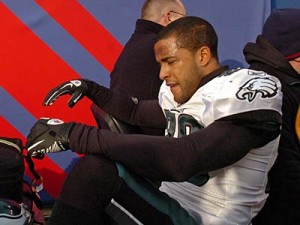 While they are absolutely right about the disadvantage free agent players are at, another group of players they should also be concerned about are 2nd year players as well as incoming rookies. The damage being done to them by not being able to meet with and practice with their coaches could end up being a lot worse than the damage done to a player who will just sign his deal a few months later than normal.
Les Bowen of the Daily News talked about this topic this morning on Philly.com, and he was dead on when he said that a majority of the Eagles players are going to be coming into this season behind the eight ball because of not being able to meet with and practice with the coaches.
Think about it- of the 13 players the Eagles drafted last season, 12 saw action on the field. Players like Nate Allen, Brandon Graham, Riley Cooper, and Kurt Coleman ended up playing significant roles. Trevard Lindley, Jamar Chaney and Clay Harbour saw their time increase as the season went on.
In this year's draft, the Eagles are hoping that Danny Watkins, Jaiquawn Jarrett, Alex Henery, and possibly Casey Matthews come in
and start right away. Dion Lewis should see significant time, and as a running back in the Eagles offensive system, he has a big adjustment ahead of him.
Add up the 2nd year players along with the incoming rookies, and the Eagles are hoping that 9 players- Graham, Cooper, Allen, Coleman, Chaney, Watkins, Jarett, Henery, and Matthews- can come in from week 1 and be a starting player on what many expect to be a Super Bowl caliber team. That's a significant portion of the team.
If you're an Eagles fan, it's scary enough to think what will happen to those players during this off-season as they are not able to grow with their coaches, but what should be more frightening is the Eagles might not have any choice but to play them.
Graham will most likely miss the first part of the season due to his ACL injury last year, and a player who's game is predicated on speed is going to take a while to become the same player after such an injury. Add in the fact that Graham is unable to meet with coaches, and you could argue before the season even starts that Graham's upcoming season could be a waste.
But regardless of what kind of shape Graham is in when he comes back, he is going to be counted on to play a major role. Trent Cole should be starting to wear down right around when Graham comes back, and Juqua Parker is a solid player, but not one you can count on to be a full-time player the whole season. Graham is the next best option the Eagles have.
Danny Watkins was drafted because he was seen by many as the surest thing in the draft. Andy Reid is expecting him to start from Day 1. Watkins has a playbook, but without Reid and Mudd in his ear breaking it down, those plays are nothing but X's and O's. Imagine a scenario where there is only one-week of training camp before the first game. The Eagles would be taking a major risk by sending Watkins out there to start, but they may have no choice.
The safety position is filled with players that could take a step back by not being able to meet with the coaches. With Quintin Mikell's locker cleared out and his fate all but sealed, the Eagles safeties currently do not have a player with more than one-year experience
that is expected to see playing time next season.
Allen's health is still up in the air, but he is expected to be back by training camp. He started last season strong, but started to slip late in the campaign, as he was caught out of position many times, biting on pump fakes. Those mistakes are not going to be fixed in the weight room, but in the coach's office looking at tape.
Coleman was a pleasant surprise, as the 7th round pick. He came in and started after Allen's injury. The former Buckeye is a hard hitter, but his coverage skills still need work.
The same could be said for Jarrett, who coming out of Temple and playing teams in the MAC, is not known for his coverage skills. His game is built on big hits and knowing where to be on the field. The Temple product is said to be a quick learner, and told us at his press conference that he knows the importance of studying the playbook, but that's going to be hard to do if Juan Castillo's door has a lock on it.
With all that being said, keep this in mind right now, Jarrett and Coleman are penciled in as the current starters, with Allen's health still up in the air.
The list goes on and on for the Eagles. Chaney is going to start, but all the weights in the world are not going to help him understand Castillo's new defensive system. Henery could end up stepping into David Akers shoes with only a few practices under his belt. Lindley is highly regarded at the Nova Care, but his playing time was hurt by not understanding the defense last year. Imagine what shape he will be in after not being able to meet with the secondary coaches at all during this off season.
The fact is, whether games or missed or not, the Eagles are being hurt by this lockout perhaps more than any other team. Their squad is built on youth, and that youth is suffering by this lock out. Throw in the fact that Kevin Kolb was unable to be traded at the draft, and this team's chances at a Super Bowl are taking a major hit this off season.