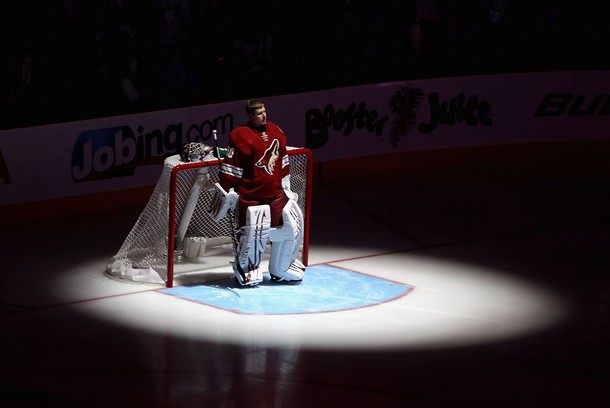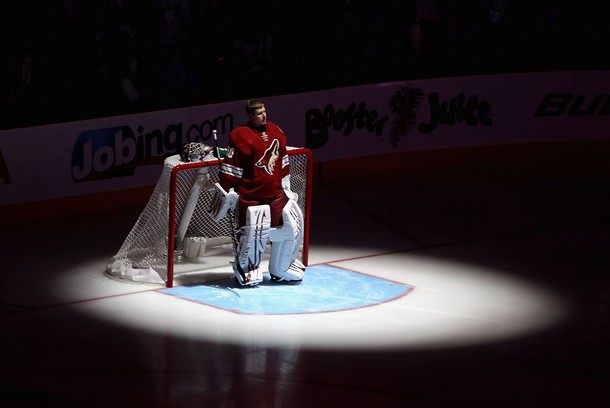 I discussed the goaltenders that the Flyers employed in the 2010-11 season yesterday. Today, I break down the options available to replace them.
There is a wide pool of free agent goaltenders available that the Flyers can choose from if they elect to go that route, but there are only two that stand out as worthwhile additions- Tomas Vokoun and Ilya Bryzgalov. Both have performed very well for their respective teams, but Bryzgalov has the advantage of being younger by four years and the potential for being a mentor to Bobrovsky as a fellow Russian.
Bryzgalov spent three seasons with the Anaheim Ducks followed by four seasons with the Phoenix Coyotes. He has been fairly consistent throughout his career and has put up respectable numbers. Unfortunately, he hasn't stood out in the playoffs, but hopefully the team in front of him won't be as atrocious as this year's if he signs with Philadelphia.
Vokoun has typically had a better save percentage than Bryzgalov, but has very little playoff experience post-lockout having been tethered to the Nashville Predators (who have only come into their own in the last two years) and the Florida Panthers (who have missed the playoffs since Bill Clinton was in office).
Neither will come cheap (think $4 million+), and will likely force current Flyers from the roster. Signing either of them would be a respectable move on Paul Holmgren's part and a good PR move, though.
There are cheaper options available on the free market that are decent, but the majority of them would be stopgaps rather than solutions.
Evgeni Nabokov, having passed on a contract with the Flyers last offseason, is coming off of a weak season with St. Petersburg SKA of the KHL (3.02 GAA and 0.888 SPT). The Detroit Red Wings tried to sign him late in the season while Chris Osgood and Jimmy Howard were both temporarily injured, but he was grabbed through waivers by the New York Islanders. Nabokov, apparently too good for the Isles even though he wasn't good enough for the KHL, argued, "What would be the point?"
Jean-Sebastien Giguere, teammate of Chris Pronger and Sean O'Donnell when they won the Stanley Cup with Anaheim, has wrapped up his current contractwith the Toronto Maple Leafs. The 34 year-old's stats weren't very good for the year, but he was suffering through multiple groin injuries. With the advent of James Reimer (which didn't surprise me at all, based on his performance against the Flyers in the preseason) and the promise of Jonas Gustavsson, he will not likely be back with Toronto.
Marty Turco, 36, also having passed on a contract with the Flyers last offseason, played second fiddle to Corey Crawford of the Chicago Blackhawks. Osgood will be available, but he will turn 39 during the season and doesn't look as good at his age as Dwayne Roloson.
In short, Nabokov has ego issues, Giguere has groin issues, Turco doesn't evoke confidence and Osgood is getting old. The Flyers could probably sign any of them for under $2 million, though, so don't be surprised if the bargain basement gets tapped again.
If the organization is actually serious about getting a goaltender and neither Bryzgalov or Vokoun are available, they could trade for one, even if it requires they give up an asset. I'd throw out names as suggestions, but half of the assets on this team have no-move clauses, so it'd be pointless.
The Washington Capitals are rumored to be willing to part with Semyeon Varlamov, who put up strong numbers while backing up Michael Neuvirth. Of the several issues associated with Varly (injuries and playoff performance come to mind), he was also Sergei Bobrovsky's biggest rival at the junior level. Trading for him would be a slap in the face to Bob.
Jonathan Quick from the Los Angeles Kings probably isn't available, but it's plausible that they would be open to a trade if the Flyers were willing to give up enough. Quick is a young goaltender with years of experience under his belt and is a genuine starter. The fact that the Kings haven't won a Cup with him in net has more to do with the team in front of him than his own misgivings. They also have competent up-and-comer Jonathan Bernier to fall back to.
Finally, there's Cory Schneider, the back-up for the Vancouver Canucks. Schneider had an impressive 0.929 SPT for the season and appears to be ready to be the starter for an NHL team. He has no future with the Canucks as long as they have Roberto Luongo, though. At 25, he's going to be highly coveted when his current contract runs out, which is why trading for him now could be advantageous.
It's ultimately a crapshoot which direction the organization will go, but the pressure to acquire another goaltender will be great after the 2011 playoff implosion.