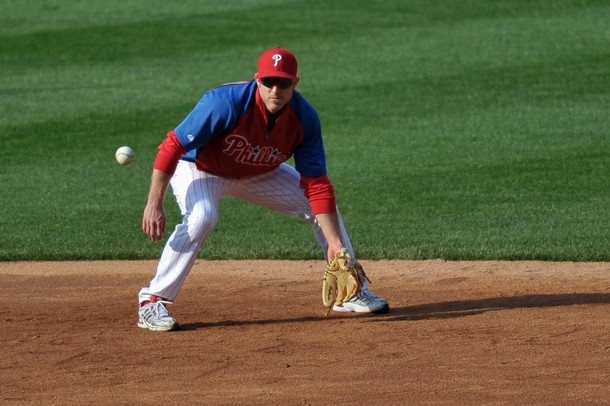 Phillies second baseman Chase Utley began an official rehab assignment with Single-A Clearwater on Tuesday. The injured star has finally been making significant progress in his recovery from patellar tendinitis and has taken significant steps towards his return to the Phillies. He appeared in an extended Spring Training game earlier in the week, and hit two homeruns. In his first rehab game, he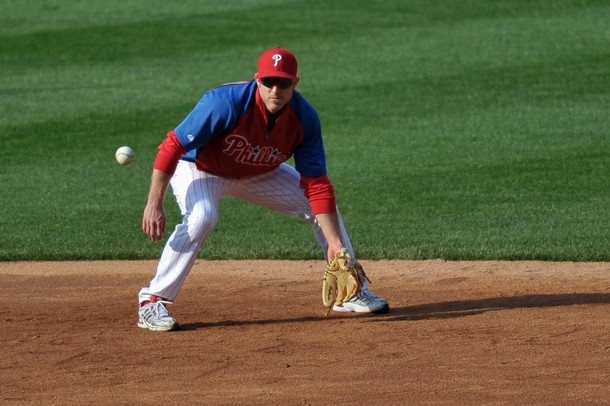 went 1-4 at the plate with a single in the 8th inning.
More importantly, Utley reported no discomfort in his knee after the game. He ran out multiple ground balls, and ran from first to second after his single. Of course, it's difficult to tell how honest the 32-year old second baseman is being about his health. He rarely discusses his injuries with the media, its hard to tell when Utley's play is impacted by injuries or not.
Regardless, Utley's knee must be feeling significantly better than it was in March if he has been able to get back on to the field, and into game situations. He is getting closer and closer to returning to the Major Leagues, possibly eyeing the next homestand as a return date.
The Phillies need to be cautious with how fast they bring Utley back. The offense could certainly use the extra punch that the former All-Star would provide, but in spite of the inconsistent play of the bats, the Phillies still have a top record in baseball at 23-12. There isn't any reason to force Utley along, and possibly cause a setback in his progress. The Phillies need him to be contributing in August, September, and October, not in May.
Utley will have a day off on Wednesday before deciding what he will do next. The next test for him will be to see if his knee can hold up and allow him to sustain a high level of play after going through multiple games in a week. If he continues to make good progress in his rehab, the Phillies could see him back in the infield sooner rather than later.