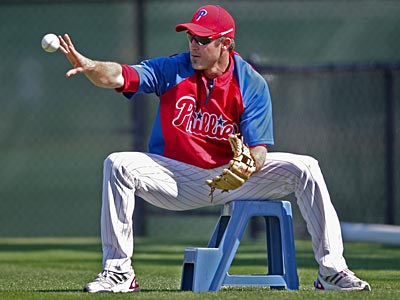 In 1998, the Atlanta Braves notched their 106th win of the season behind, arguably, the greatest pitching staff ever assembled: Tom Glavine (20 wins), Greg Maddux (18), Kevin Millwood (17), Denny Neagle (16) and John Smoltz (17). But Baltimore would beg to differ with their 1971 rotation, which featured four 20-game winners: Mike Cuellar, Pat Dobson, Jim Palmer and Dave McNally.
Those teams, despite their incredible pitching performances, failed to win a world series in their respective seasons.
However, the Phillies and their entire fan base believed that with their new rotation, the sky was the limits.
And who would disagree. Roy Halladay, Cliff Lee, Roy Oswalt and Cole Hamels are four of the best pitchers in the league, and with the Phillies recently becoming an offensive juggernaut the past few seasons, there was no way any National League team could compete with the club.
But, 41 games into the season, and the Phillies are not where many expected them to be: only .5 games ahead of the second-place Florida Marlins and riding a four-game losing streak entering the Colorado series.
Now 25-16 is not a bad record, in fact, it's quite good; but compared to what the Phillies could be, it's a bit of a disappointment.
The pitchers, for the most part, have done their job by keeping the offense in striking distance and in some cases, winning games single-handedly with their arms.
It hasn't been pretty this season because of everyone's biggest fear coming true: injuries.
They were bound to happen, though. The pitching staff may be good, but they are up their in age: Halladay (34), Lee (32), Oswalt (33) and Joe Blanton (30). The position players, like the rotation, are up their in age too: Ryan Howard (31), Jimmy Rollins (32), Placido Polanco (35), Raul Ibanez (38) and Shane Victorino (30).
And pretty much all of the players above 30 have been injured at some point this season. Blanton spent 15 days on the disabled list with an elbow injury and Victorino is suffering from an oblique injury. Carlos Ruiz, as well, saw time on the DL this season, as has his backup, Brian Schneider.
The injury bug has slowed down this team greatly, and it has made their offense very weak. The combination between aging players and injuries does not mix well because the older a player gets, the harder (or longer) it is for that player to recover.
Oh, and Chase Utley still hasn't played this season. Brad Lidge has also been M.I.A. this season, and Jose Contreras was forced to miss an extended amount of time after starting the season off so good.
Everyone's biggest fear — injuries — has prevented the Phillies from extending their lead in the division, wasted plenty of solid pitching performances from their big four, and made it difficult to gain any consistency in 2011.
Oh, and it doesn't help that the offense is coming up small and failing to convert in key situations. Because of this, Halladay, Lee, Oswalt, and Hamels have all suffered one-run defeats, which are the hardest ones to swallow.