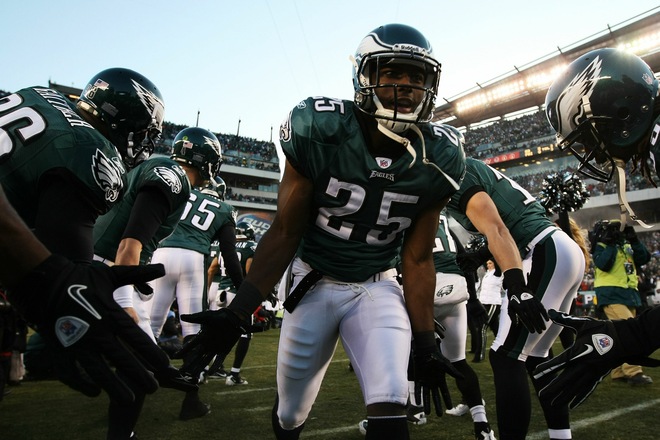 The future of the NFL remains in doubt thanks to an ongoing dispute between the league's owners and the association formerly known as the Player's Union.
While the labor talks and appeals processes are taking place, the NFL Network has put together a list of the leagues top 100 players.
It's hard for me to discern the top overall football players because of the various positions. Even the different positions have different roles depending on which team a player is on.
Moving on to running back, this is a difficult position to judge because each team uses their backs differently.
Would Adrian Peterson be as productive in Andy Reid's offense? Could LeSean McCoy become a 30 carry per game workhorse? The answer to both questions is: Probably not.
Based on how they maximize their skill set for the team they play for, these are my current top 10 running backs in the NFL.
1. Adrian Peterson (Minnesota Vikings): The NFL has become a passing league where you need great QB production and/or a committee of 2-3 running backs to be successful. Peterson is one of the last running backs that can the focal point of an offense (Although a quality QB makes things much easier). In 2010, he proved he could reduce his fumbles as well.
2. Chris Johnson (Tennessee Titans): Johnson is evidence that speed kills. He may be the fastest guy in the league and every time he touches the ball, he's a threat to go the distance. Just like Peterson, Johnson could use a quality starting QB to take the pressure off him.
3. Michael Turner (Atlanta Falcons): After leading the league in rushing and getting closer to the age of 30, I'm not sure how long
Turner can stay at the top. Right now though, he's still a threat to reach 1500 yds rushing and 10+ TDs.
4. Steven Jackson (St. Louis Rams): Because he plays for the Rams, a lot of people have forgotten how good Jackson is. Until last year, he also had a tough time lasting an entire season.
5. Jamaal Charles (Kansas City Chiefs): Charles rushed for almost 1500 yards and he wasn't even supposed to be the starter for the Chiefs. Going in to 2011 with Thomas Jones as his backup from the beginning, he might be even more productive.
6. Rashard Mendenhall (Pittsburgh Steelers): People are going to judge him for his use of Twitter. His drive killing fumble in the Super Bowl won't be easily forgotten either. Still, Mendenhall is one of the better running backs in the league who's improved each season. The boos at Heinz Field will stop after he scores his first TD of 2011.
7. Darren McFadden (Oakland Raiders): McFadden was the leader of the Raiders No. 2 rushing attack. With Michael Bush possibly
leaving via free agency (whenever that is….), Run DMC will be expected to carry a bigger workload.
8. LeSean McCoy (Philadelphia Eagles): If Andy Reid utilized McCoy on the ground more, he could be one of the top three running backs in the league. On the pass happy Eagles, McCoy still reached 1000+ yards thanks to his 5.2 yards per carry. Thanks to Philly's offense, he led all running backs in receptions.
9. Maurice Jones-Drew (Jacksonville Jaguars): What's amazing about Jones-Drew is his ability to carry a heavy workload at his size (5'7", 208 lbs). He'd be higher on this list if he didn't show that he's starting to break down at the end of last season.
10. Arian Foster (Houston Texans): Foster led the league in rushing yards and rushing touchdowns. He needs another year like 2010 to move up higher though.
Honorable mention: Ray Rice (Baltimore Ravens)- needs to get in the end zone more; Frank Gore (San Francisco 49ers)- injuries ended what would've been a great season; Peyton Hillis (Cleveland Brown)- how many Browns have had two good seasons in a row lately?
I know the debates are coming and I look forward to reading them.
Next: Wide Receivers