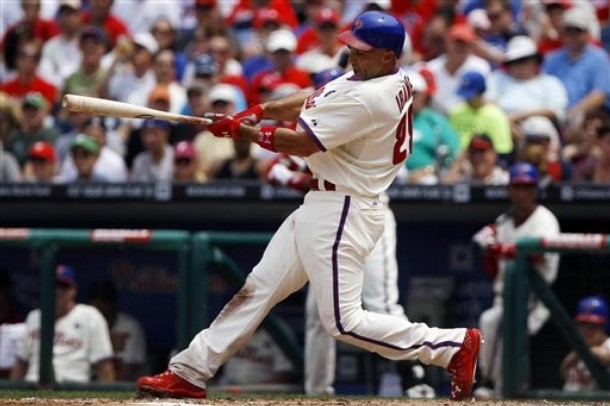 Livan Hernandez stared in at Ryan Howard, knowing that he had thrown three solid innings thus far and was quietly going about his business against the league's top pitcher, Roy Halladay.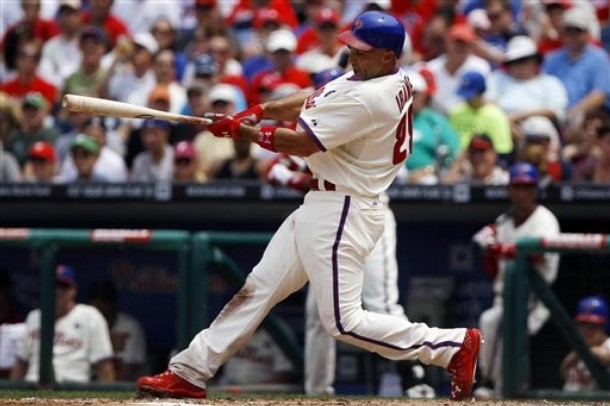 The pitch came in, and 401 feet later, Ryan Howard crossed home plate, and in the process, sparked the Phillies' bats.
The bats, which were quiet earlier in the game, came alive; however, left fielder Raul Ibanez was already riding a hot bat, and continued his rabid pace by belting a Hernandez pitch 375 feet over Jayson Werth's head. The back-to-back homer's supplied the spark for the offense and led the Phillies to the eventual win.
Looking back on this young season, the critics (including myself, I'll admit) were quick to jump all over Ibanez and his apparent struggles at the plate.
But who could blame the media for getting on his case? He was batting a dismal .161 at the end of April and struck out 26 times in that span.
The calls for Domonic Brown and John Mayberry quickly mounted up, and many people went as far as saying that the Phils needed to go out and acquire an outfielder on the market, such as Houston's Hunter Pence (once again I'll admit, I was one of the advocates for a trade).
Clearly, the media and I were way off target.
Now, Ibanez has arguably the hottest bat on the team and bumped his season average from .161 to .246 in just one month. He struck out ten less times in May than he did in April and drove in 17 runs to go along with his six home runs.
Ibanez was quick to bounce back in the month of May, going 8-16 in the first four games of the month — a stretch that included three doubles and two home runs.
In the month of May, Ibanez finished with an average of .317 and a whopping .934 OPS (his April OPS was .466). He also compiled a .594 slugging percentage, which greatly improved compared to his April slugging percentage of ..218.
So put the trade rumors aside. Ibanez is here, and he's here to stay. The April problem belong to Ibanez and his horrendous average; now the problem is with Ben Francisco.
In May, Francisco batted a dismal .169 compared to his April average of .266. He also compiled 18 RBI's in the opening month compared to just seven RBI's in May. Because of his inability to get hits, the Phillies utilized Mayberry more, and once Brown returned from the DL, he too received playing time.
Mayberry knocked in more runs in May than Francisco (8) , and Brown batted a respectable 333 in 27 at-bats.
The corner outfield spots, as it sits now, is certainly not a problem anymore. Ibanez has found his stroke, and Brown is making some noticeable progress with his bat. As long as Francisco and Mayberry can get their strokes back in June and throughout the season, the Phillies' lineup should be good to go.