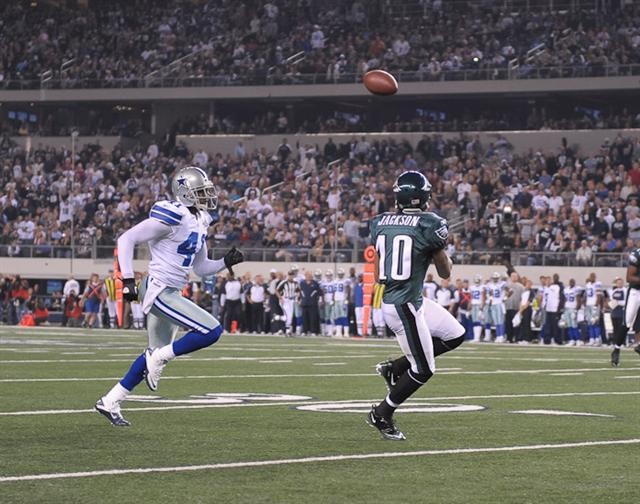 The future of the NFL remains in doubt thanks to an ongoing dispute between the league's owners and the association formerly known as the Player's Union.
While the labor talks and appeals processes are taking place, the NFL Network has put together a list of the leagues top 100 players.
It's hard for me to discern the top overall football players because of the various positions. Even the different positions have different roles depending on which team a player is on.
As an Eagles fan, I would love to put a DeSean Jackson or a Jeremy Maclin in the Top 10. But, as I realist, I can't.
With Jackson, you have possibly the most exciting and most dangerous big play threat in the league. Unfortunately, if you can eliminate the big play you eliminate DeSean as a factor. 47 receptions out of 96 targets isn't a stat you want from your supposedly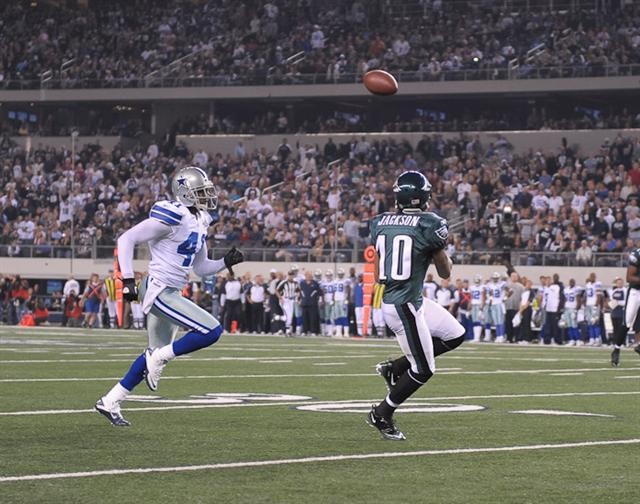 GreNo. 1 receiver.
I stated last year that Maclin would be the more reliable Eagles receiver. He could end up being a Top 5 receiver, but he has to prove that he's continuing to improve. We'll see how he progresses if and when the 2011 season begins.
Listed below are my current top ten NFL wide receivers
1. Larry Fitzgerald (Arizona Cardinals): Before, during and after Kurt Warner, nothing but a rookie year and an injury shortened 2006 season has kept Fitzgerald from being a 90+ reception target. He almost single handedly brought Phoenix their first Super Bowl victory after the 2008 season. If the Cardinals acquire a quality starting QB, Fitzgerald will continue to dominate the league for quite some time.
2. Andre Johnson (Houston Texans): Johnson is ranks first in career receiving yards per game (79.7). The casual football fan likely wouldn't know this because unlike the Cardinals, the Houston Texans have yet to make a playoff appearance. If the Texans defense improves, leading to even more offensive possessions and possibly wins, Johnson will easily lead the league in receptions.
3. Calvin Johnson (Detroit Lions): The Lions got lucky when the Oakland Raiders decided to take QB JaMarcus Russell with the No. 1 overall pick in 2007. Johnson is almost the size of a tight end and also can stretch the field (15.5 career yards/catch). If Detroit can keep Matthew Stafford healthy, look out!!
4. Roddy White (Atlanta Falcons): It took a few years for White to prove he was worth a first round pick in 2005, but he hasn't looked back. It helps to have Matt Ryan throwing him the ball and it'll help even more to have rookie Julio Jones on across from him.
5. Reggie Wayne (Indianapolis Colts): As an Eagles fan, I can't bring up Reggie Wayne without mentioning the fact that Philly chose Freddie Mitchell over him. With Peyton Manning passing to him, Wayne has produced seven consecutive 1000 yard seasons. His presence has helped young wideouts Austin Collie and Pierre Garcon become productive.
6. Brandon Marshall (Miami Dolphins): Marshall may fall off this list if his domestic problems interfere with his career. Nobody can deny his ability on the field though. He's another playmaker who finds a way to produce no matter who the QB is.
7. Greg Jennings (Green Bay Packers): When you think of the Super Bowl Champions, obviously Aaron Rodgers is the first name to think of. Jennings immediately became Rodgers primary target in 2008, accounting for almost one third of his yards and touchdowns.
8. Wes Welker (New England Patriots): It helps to be Tom Brady's favorite target, but three straight seasons of 100+ receptions is still an incredible accomplishment. In 2010, when Welker's knee wasn't 100%, he only had 86 catches. With his knee back to normal, Welker should hit the century mark again in catches.
9. Dwayne Bowe (Kansas City Chiefs): Bowe's first two seasons were aided by the presence of future Hall of Fame tight end Tony Gonzalez. After Gonzalez's trade to the Atlanta Falcons, Bowe became the primary aerial target and he hasn't disappointed. Even as part of a run-oriented offense (No. 1 in the NFL), Bowe found a way to be on the receiving end of 15 TDs.
10. Marques Colston (New Orleans Saints): It's very rare that a seventh round draft pick (2006) emerges as a top receiver and actually
stays there. Colston has been Drew Brees favorite target since both arrived in 2006. Outside of the 2008 season where he played only 11 games due to a broken thumb, Colston hasn't failed to produce 1000+ yards in receptions.
Next position: Tight Ends