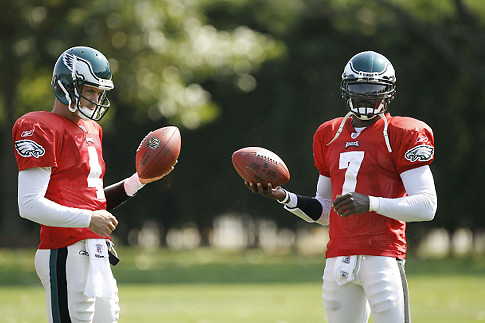 NFL Films and HBO sports haven't been able to reach an agreement with an NFL team on the Hardknocks reality show. So far every team which they have approached has turned them down.
What would you think about the Eagles agreeing to do the show? Could you imagine a Hardknocks show with Michael Vick, DeSean Jackson, Asante Samuel and head coach Andy Reid?
The animal rights people would probably dust off their signs and show up, if they thought they could get some publicity.
Eagles fans and NFL fans nationwide would get the chance to see what new defensive coordinator Juan Castillo is teaching on the defensive side of the ball. He's been emphasizing simplicity and the fans would be able to get a good feel for where he was taking the defense.
We could get an upclose look at the Eagles new defensive line coach Jim Washburn and see how he's working the Birds defensive line.
New offensive line coach Howard Mudd would be putting in the new blitz pickups and adjustments at the line of scrimmage. I'm sure that Mudd would mistakenly call Michael Vick, Peyton Manning a few times and we would all get a laugh out of that.
Could imagine if Kevin Kolb was at camp and going through the practices, while at the same time, rumors of a trade being worked out would be talked about every day? The probable trade of Kolb by the Eagles has been the number one football story of the lockout, so it would be fitting that Hardknocks would be able to show much of the behind the scenes goings on as the trade comes to fruition.
To say the least, the show would be highly watched and rival what Rex Ryan and the New York Jets did a year ago.
On the negative side, teams which have been unsettled at the quarterback position and at head coach have gone on to have bad seasons. Hardknocks makes a bad team worse. The Eagles have a good football team and are settled at head coach and at quarterback, so they shouldn't have a problem.
What do you think? Would you like to see the Eagles become the subject of this year's HBO show?
Truth of the matter is, if they volunteered to do it this year, they wouldn't have to do it until next season because it doesn't look like we're going to have a preseason.