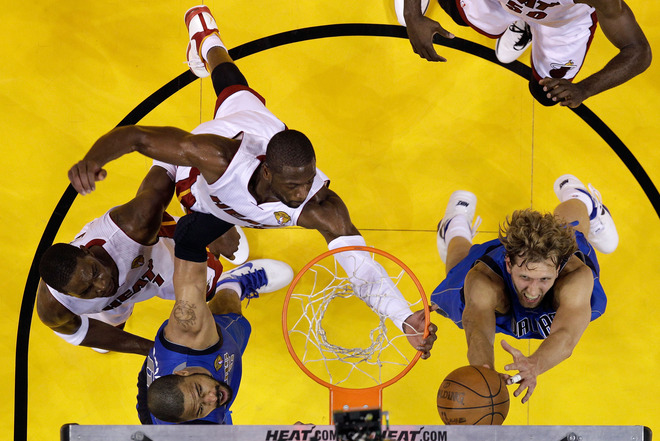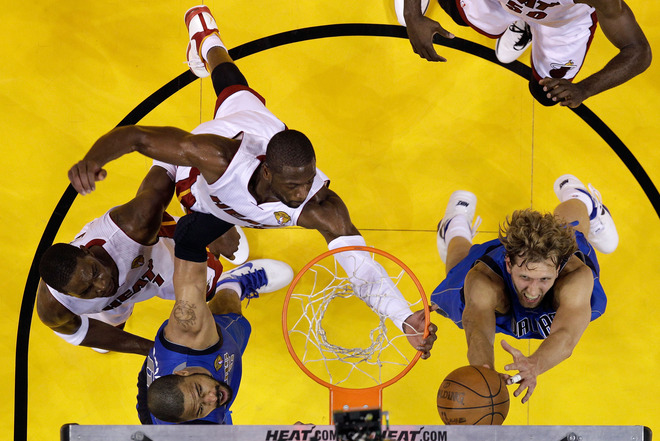 For all intents and purposes, the Dallas Mavericks did what they were supposed to do – win one of two in Miami.
The Mavericks took advantage missed shots, poor shot selection and turnovers to rally back from a 15-point fourth quarter deficit to steal a 95-93 victory evening the NBA Finals series at one game apiece.
Dirk Nowitzki, playing with a torn tendon in his left middle finger led the Mavericks with 24 points, including a layup to give them the lead for good with 3.6 seconds remaining in regulation.
The loss ruined a great game for Dwayne Wade who returned to form with 36 points 5 rebounds and 6 assists. Wade had several great finishes below and above the rim during the game, it was his three-pointer (adding a pose for emphasis) with 7:14 remaining that put the Heat up by 15, prompting Dallas to call a timeout.
The Mavericks came out of the timeout and went on a 11-0 run before the Heat would score again on two Lebron James (20 pts.) free throws. Miami as a team shot 1 for 11 following Wade's three. James missed two long threes and Udonis Haslem took an ill-advised 15 footer that led to Nowitzki scoring the Mavs final seven points, including a three with 26.7 remaining.
The Mavericks blew an opportunity to pull away leading by nine points but the Heat closed strong in the final minutes (Wade 5 pts.) to tie the game at 51 going into the intermission.
In the 3rd quarter the Mavs committed six turnovers leading to 12 Heat points, Mike Bibby finally broke through scoring 8 of his 14 points in the period. Nowitzki and Shawn Marion led the Mavs with 6 points each.
Other keys to victory for the Mavs last night was the continued timely play of Shawn Marion, I don't know how long he can keep his level of play up but he's having a good series. Tyson Chandler was very active offensively. The Mavericks are going to need Jason Terry (5-11,16 pts. 0-2 3pt.) to get going if they want to keep Miami on their heels in this series.
For the first time in quite awhile Chris Bosh struggled, Bosh was 4-16 from the floor for 12 points, he and James led the team with 8 rebounds each. More discouraging was the Heat's bench production which was outscored 23-9. Not to be overlooked was the Heat's defense which from the outset gave the Mavericks problems 31 points on 20 turnovers is huge. But the Mavs stayed the course and took advantage of every opportunity down the stretch to gain some momentum going back to Dallas for Game 3.