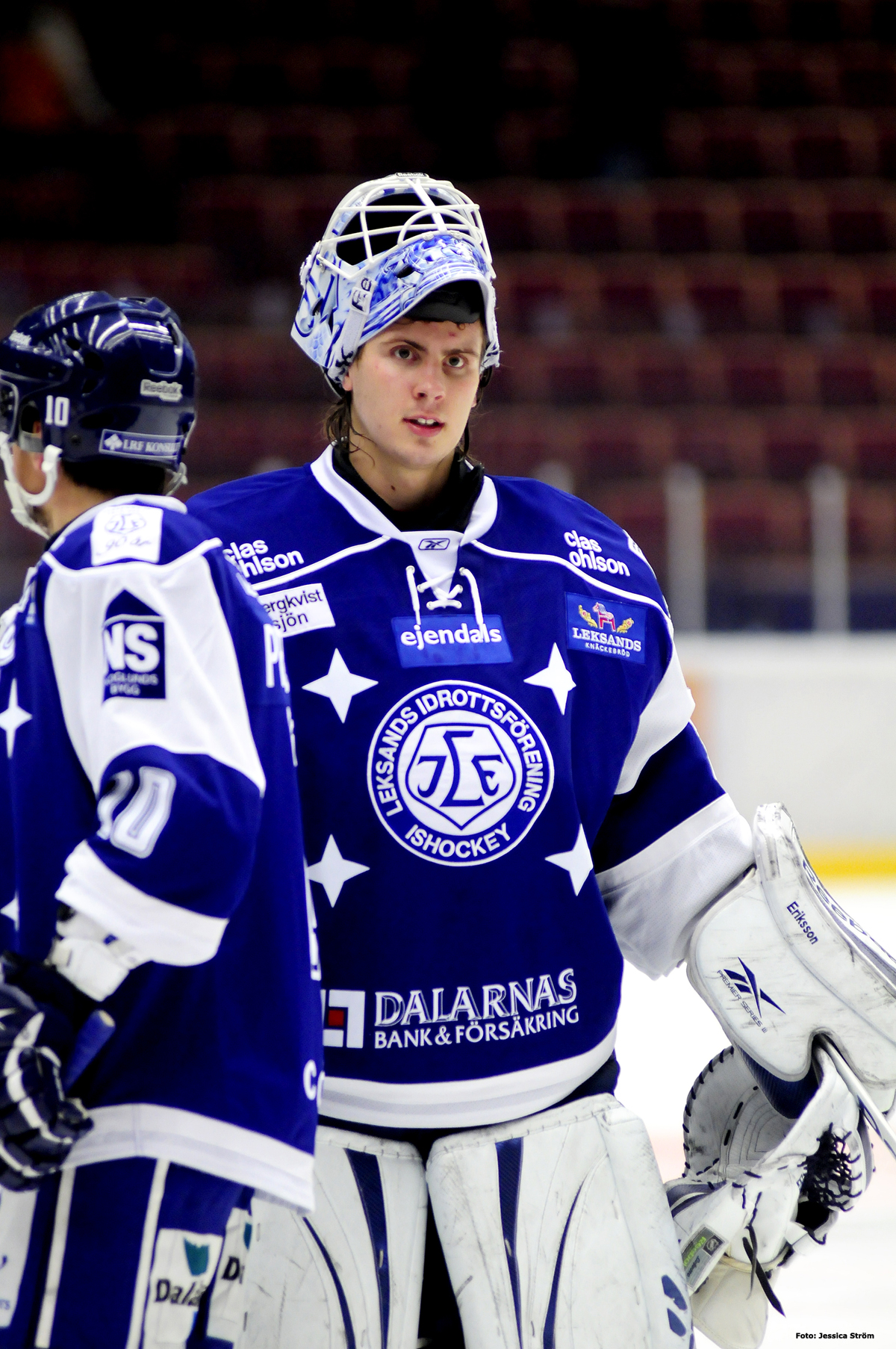 Bill Meltzer of Hockeybuzz broke the news late this morning that the Flyers have elected not to extend a contract to their top prospect, goaltender Joacim Eriksson. Eriksson is now eligible to sign with any NHL team he chooses.  Although there is some argument to be made in defense of Paul Holmgren's decision to lose the young Swede, this is about as poor of a decision as it gets.
The web site The Goalie Guild updated their top 100 goaltending prospects on May 9. The list includes players who have played 25 games in the NHL or less, so Sergei Bobrovsky would not be on the list.  Eriksson ranks 38th on the list, while fellow Flyers goaltending prospect Nicola Riopel ranks 43rd.
Another web site, Hockeys Future, ranked Eriksson as the Flyers' #1 prospect as of September 2010. Sergei Bobrovsky was ranked #2. Of the remaining players in the top 5 positions on that list, Pat Maroon was shipped to Anaheim, Joonas Lehtivuori hated Adirondack and was shipped out of the country, and Kevin Marshall hasn't shown that he could be more than a 5th or 6th defenseman.
What I'm getting at is that releasing your best prospect, when the cupboard is completely bare, is ridiculous.  It's especially disheartening when you consider that goaltending has been the team's Achilles heel since 1987, and this was a legitimate shot of finding another franchise goaltender within their ranks.
As I remarked earlier, there are certainly other facts to consider here as to what could possibly be going through Holmgren's mind. Like recent signing Niko Hovinen, Eriksson was planning on staying in the Swedish Elitserien for at least another year, so he wouldn't be coming over regardless. He had previously excelled in the Swedish Junior league, but was not able to grab the starting position away from teammate Andreas Hadelov. As a result, he only started in 17 games this past season with Skelleftea, but showed promise.
It's possible the organization could take a second look at him in the future; there's no reason they still can't sign him. The problem is that he's also free to sign elsewhere and the Flyers will have gained nothing from drafting him.  Holmgren better hope that Hovinen has a career year next season.
In similar news, former Flyers goaltending prospect Jacob Deserres recently won the Memorial Cup in the QMJHL Championship with the Saint John Sea Dogs.  Deserres was let go after the 2009-10 season despite a decent showing in the Memorial Cup Finals with the Brandon Wheat Kings.  At the time, he was fairly inconsistent from season to season so it was difficult to gauge how he would pan out. When you consider the logjam of goalies the team has under contract already, it didn't seem like that bad of a decision.
With the Memorial Cup Championship under his belt, Deserres may soon find another shot at the NHL, being in a similar situation to Hovinen's.
For the latest Flyers news, you can follow me on twitter (@JoshJanet).