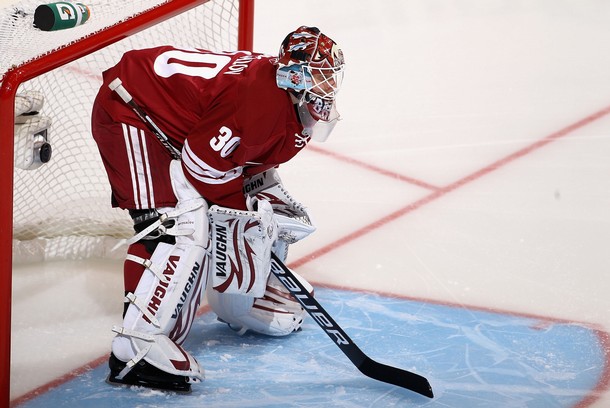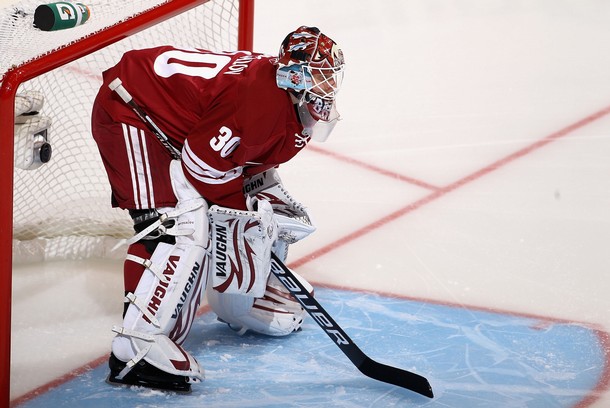 Earlier this morning, Nick Kypreos of Sportsnet reported that the Flyers have the framework for a deal with Ilya Bryzgalov in place. He went on to say that Bryzgalov was "looking for a deal in the seven-year, $50-million range," or $7.14 million earned per year.  The deal wouldn't be announced until July 1.
The sound that you thought was thunder was actually my head, slamming repeatedly into a desk.
Since that news has circulated, Bryzgalov's agent Rich Winters has denied that any deal was in place. General manager Paul Holmgren also issued a statement discrediting the information.
Holmgren:  "Rumors are rumors. We are continuing to try and reach an agreement with Ilya, but it is safe to say that we are not close to achieving this."
Tim Panaccio of CSNPhilly tweeted that he spoke with Ed Snider in Las Vegas (the NHL Awards were tonight). Snider: "We want a deal that works for everybody. We don't have anything in place yet.  It's not done yet and it can't be done before we get the new cap, anyway."
It's difficult to cut through all the conjecture and hearsay, as agents and general managers are about as trustworthy as Charles Ponzi.  Kypreos didn't actually say that the Flyers had agreed to that figure, but the information spread like a game of telephone, having now been writ into the record by many outlets.
Holmgren actually used the word "compromise" as a description for where the talks were at in a statement the other day.  If I were to guess, Bryzgalov wants to be a Flyer but is allowing his agent to play chicken with Holmgren, who really has no leverage here.
If Homer doesn't have a deal in place by July 1, he wastes a 2012 third round draft pick. Additionally, if a deal isn't in place by the NHL Draft this Friday, he doesn't know how much salary he needs to shed to not lose roster players for a bag of pucks and still get Bryzgalov signed. Does he move Carter for draft picks or does he not have to?
All I hope is that Homer doesn't buckle under pressure from Snider to offer an irresponsible contract to Bryzgalov or any goaltender.  I want consistency in net as much as the next Flyers fan, but not at the expense of being unable to afford quality depth in the future.  It's a double-edged sword for a team that hasn't had a true #1 since Ron Hextall.
For the latest Flyers news and updates, you can follow me on twitter (@JoshJanet).