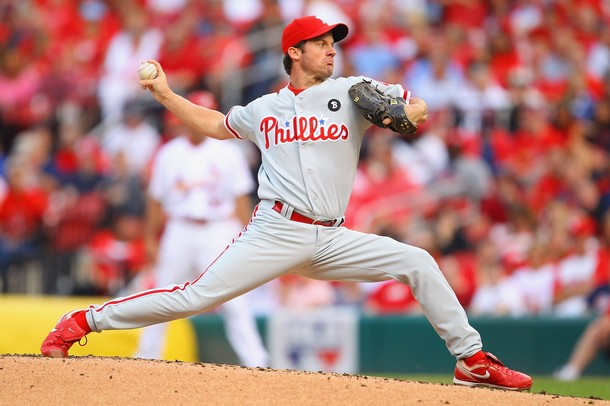 The Phillies won the first two games of the series in St. Louis with timely hitting on Tuesday, and superb pitching from Cliff Lee on Wednesday. On Thursday, in the finale of the series, they got neither.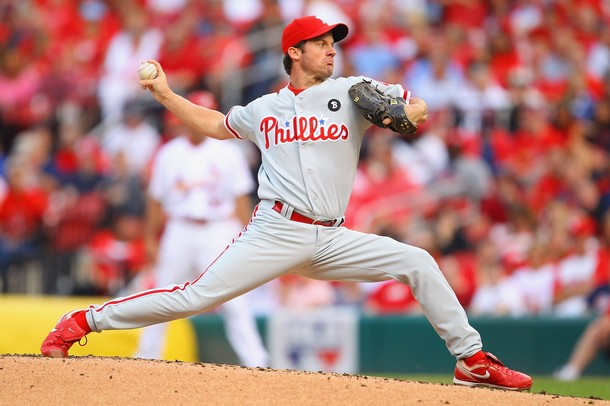 Starter Roy Oswalt lasted only two innings, giving up four runs on five hits. The righthander left the game after his second inning of work with tightness in his back. He only threw 37 pitches in the game.
Oswalt's teammates were unable to pick up the slack in the final game of the series. The offense managed just two runs on seven hits, and didn't score until the sixth inning. Cardinals starter Chris Carpenter had one of his stronger outings of the season, giving up only one run in seven innings of work to win just his second game of the season.
The bullpen didn't offer much help either. Kyle Kendrick was the first to take over for Oswalt, and allowed two runs in four innings of work. Juan Perez, a 32 year old lefty just brought up from Lehigh Valley, pitched a scoreless seventh inning, but Danys Baez put any slim hopes the Phillies had of a rally out of reach by allowing six runs in the eighth inning.
The alarming news from this game is Oswalt's latest back issue. After starting off the season 3-0, the veteran has struggled to get settled in on the mound while dealing with nagging back issues. This is the third game this season that he has had to leave early due to back problems. He has already had one stint on the disabled list because of his back, and has struggled to keep his velocity up since returning to the rotation. It's clear that his back issue has been lingering, and effecting his performance.
Oswalt finished his first four starts with a 3-0 record and an ERA of 1.88. In his last nine starts he has a record of 1-6, and his ERA has shot up to 3.79. He has only pitched more than six innings in two of his starts this season. While he hasn't been a disaster on the mound this year, it's clear that he's been laboring because of his back pain, and is struggling just to get through each start.
It's unclear if Oswalt will miss any starts because of his most recent setback, but the Phillies need to revaluate him carefully. They need to determine if the best thing would be to just shut him down for awhile, and make sure he will be healthy later in the season. They've already lost Joe Blanton for an extended period of time because they weren't cautious with him when he first tried to return from his elbow injury, and they can't afford to make the same mistake with a player as valuable as Oswalt.