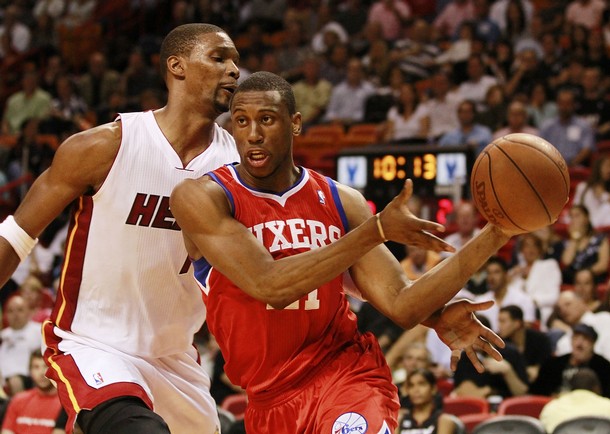 Trade news involving the 76ers is beginning to heat up.
Last night SI.com's Sam Amick reported of two possible trade scenarios involving Sixers forward Andre Iguodala. One had the small
forward being shipped to the Lakers for forwards Lamar Odom (expiring contract) and Ron Artest (three years remaining). The second an definitely the more beneficial of the two has Iguodala going to the Minnesota Timberwolves for the #2 overall pick and possibly a player, the names mentioned were Martell Webster, Johnny Flynn or Anthony Randolph. Wes Johnson could be a possibility but would probably require the Sixers 16th pick.
First and foremost, the Sixers need to slam the door on the Odom/Artest deal. If Iggy is dealt to Minnesota for the #2 pick and any player not named Wesley Johnson they can go after the big man that they need in Enes Kanter, or Jonas Valanciunas and still grab a player like Jordan Hamilton with the 16th pick or possibly trade it for a proven shooter. Could your 16th pick still land Monta Ellis?
Ok, maybe I'm reaching there. I would check with Cleveland to see if they still want the #2 pick provided Iggy is traded and swap the #4 and see if J.J. Hickson is available and take Kanter at #16. The Cavs want Arizona forward Derrick Williams and he would be theirs with that scenario. The #2 pick opens up a world of possibilities for a team that is on the upswing.
I'm trusting Rod Thorn on this one…
Yesterday the Sixers offered qualifying offers as expected to Spencer Hawes and forward Thaddeus Young was on ESPN The Fanatic
97.5 with Harry Mayes and Brian Baldinger and was asked what would his stance be if another team came with a better offer than the Sixers?
Young responded, "If I get a better offer from another team, the Sixers will either have to match or come better. That's the only way it'll work out." Young continued, "Hopefully it works out to where I'm back on the team…" One NBA coach who is high on Young is the New Jersey Nets Avery Johnson who said, "Thaddeus Young is the MVP of that team."
I don't see the Sixers allowing Young to walk. Collins would give up some of his own coin to keep Young here if it was possible – that's how much he admires him. For now, I won't read too much it. It will become an uncomfortable situation if there is a matching offer and the front office drags their feet. The Sixers realize that the fans are starting to come back and the last thing they want to do is wreck this young core.