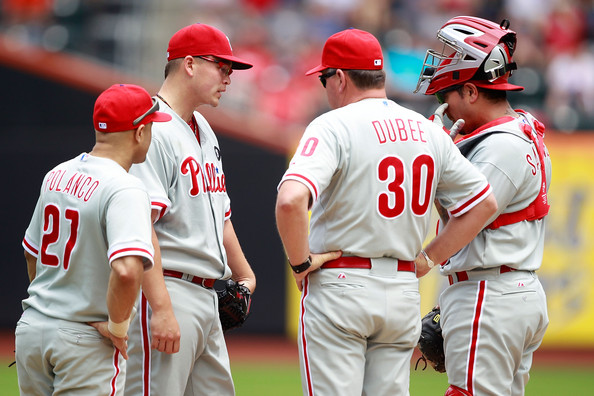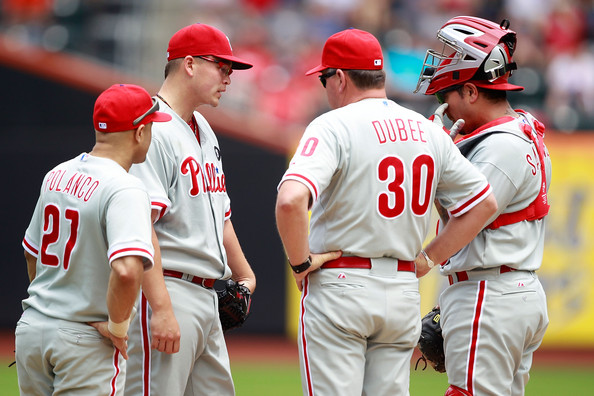 In theory, anybody could look good as a pitching coach when the starting rotation includes, Hamels, Halladay, Oswalt, and Lee. The "Four Aces" make Phillies pitching coach Rich Dubee look expendable but the truth is the Phillies have more than four pitchers capable of pitching lights out. The Phillies are first in the majors in ERA, most fans would credit that to the "Four Aces" but three young Phillies pitchers are proof that Dubee is worth his weight in gold.
Phillies left handed reliever and interim closer Antonio Bastardo has been lights out. Bastardo leads the major leagues in opponent's batting average (.109) ,ranks second in the majors among relievers in ERA (0.87) and third in WHIP (0.81). Since becoming closer, Bastardo has 5 saves on 5 chances.
Phillies rookie starting pitcher Vance Worley is 4-1 with a 2.20 ERA this season. Worley has only allowed 2 earned runs in his last 25 innings of work. The Phillies are 6-2 in games Worley has started.
Phillies rookie reliever Michael Stutes has become a reliable set up man in the 8th inning. Stutes is 3-0 with a 2.63 ERA including 6 holds in 27 and a third innings this season.
Another impressive pitching statistic not involving the "Four Aces" is a major league leading 93 percent save percentage. The Major League average is 68 percent.
If there was an award for pitching coach of the year Dubee would have to be the front runner. His bullpen suffered injuries to its first three options at closer, (Lidge, Contreras, Madson) their main left hander was cut, (J.C. Romero) and two of the five starters in the rotation have spent extended time on the DL. (Blanton, Oswalt) Despite all of the injuries the Phillies pitching staff still lead major league baseball in ERA and save percentage. If Dubee demands more money at contract time, he deserves it.