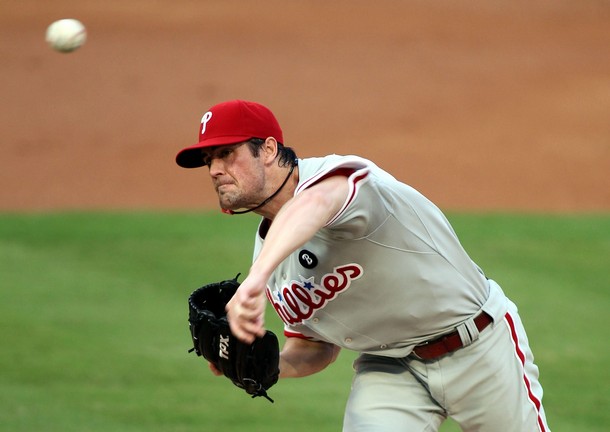 The Phillies resume play on Friday night in New York to take on the Mets who are now without closer Francisco Rodriguez who was traded to the Brewers. Here's a look at the probable pitching matchups for each game.
Friday: Vance Worley (4-1, 2.20 ERA) vs R.A. Dickey (4-7, 3.61 ERA)
Worley is coming off of his two most impressive outings of the season, lasting a combined 14 innings, and allowing just one run on seven hits in starts against Boston and Florida. A key for the young righty in both starts was keeping his walks down. He walked just two batters in each game, and that helped keep his pitch count low enough to allow him to last seven innings. The 23-year old has faced the Mets twice this season. He threw six scoreless innings in his first outing, but was chased after giving up five earned runs after just three innings in the second game.
Dickey was a find for the Mets a year ago, posting an 11-9 record with a great ERA of 2.84. This season, the knuckleballer's play has fallen off a bit. He's only won four games, and his ERA is up to 3.61. The veteran had a terrible month in May, going 1-3 with an ERA of 4.93, but has rebounded with an excellent June, going 2-1 with a 2.57 ERA. The righthander is 2-2 against the Phillies in his career.
Advantage: R.A. Dickey
It's always difficult to predict what will happen when the Phillies face a knuckleballer. Dickey has been a difficult challenge for the Phillies in the past. Worley's worst start of the season came in New York, and I have trouble believing that he can sustain the high level that he's been pitching at.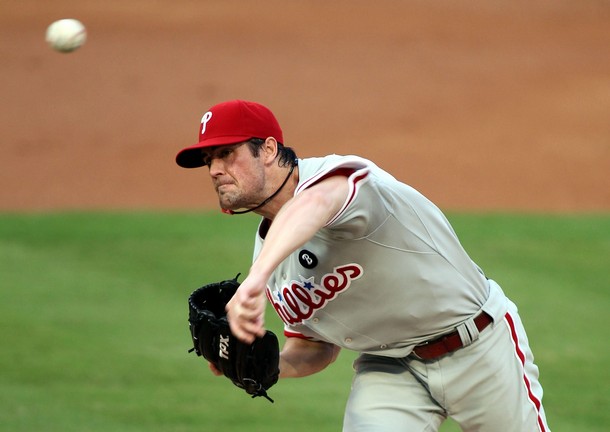 Saturday: Cole Hamels (11-4, 2.32 ERA) vs Jon Niese (8-7, 3.88 ERA)
Hamels has been one of the most difficult pitchers in the league to solve this season. He's only given up more than three runs twice this season, the last time he did so was over two months ago on May 13th. However, one of the teams that have had that rare success against him was the Mets, who pounded him for six runs in 2.2 innings in his first start of the season. The lefthander would come back against the Mets in May with a strong seven inning, two-run performance. The former World Series MVP has struggled against the Mets in his career with a 3-9 record and a 4.22 ERA.
Niese got off to a bad start this season, with a 1-4 record and a 4.71 ERA in April. Since then, the lefthander has straightened himself out, going 8-3 and lowering his ERA to 3.88. He's made two starts against the Phillies this season. His first start went poorly, giving up six runs in four innings. His second start went much better, giving up just two runs in 6.1 innings. The 24-year old is 2-3 with a 3.11 ERA in his career against Philadelphia.
Advantage: Cole Hamels
It's a tough call in this matchup. Hamels has had his struggles against the Mets in the past, and Niese has had decent success against the Phillies. However, since that poor start against New York early in the season, Hamels has been pitching on an extremely high level, the best of his career. He should be able to outlast and outperform Niese.
Sunday: Kyle Kendrick (4-4, 3.58 ERA) vs Mike Pelfrey (5-8, 4.55 ERA)
The Phillies named Kendrick their starter for Sunday over Cliff Lee in order to give extra rest to their top two pitchers (Halladay & Lee) who have both thrown a great number of innings in the first half of the season. Kendrick has been decent in the 5th starter's role. He lasted five innings and gave up just one earned run in his last start against Florida. The righthander is 3-5 with a 3.07 ERA in his career against the Mets.
Pelfrey is having a poor season. He was brutal in April, going 1-3 with a 7.39 ERA, and just hasn't been a reliable option for the Mets this year. He's only made it past the sixth inning six times in 19 starts. He's traditionally struggled against the Phillies. He does hold a winning record (6-5) against them, but his ERA is 5.01 in 16 career starts.
Advantage: Kyle Kendrick
After facing a couple of pitchers that they may struggle to put up runs against, the Phillies lineup should be able to do some damage against Pelfrey, a mediocre pitcher who has been burned by the Phillies throughout his career. This could go either way, but a slight edge goes to Kendrick who has been having a decent season, and has pitched well against New York in his career.