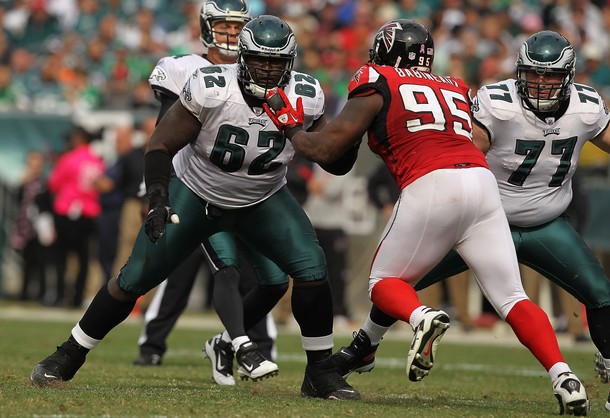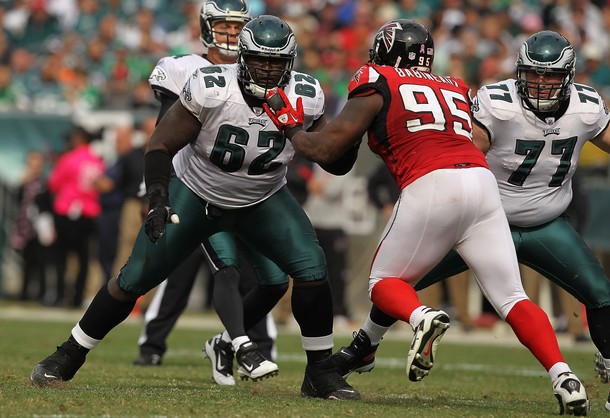 You may have heard that Eagles G Max Jean-Gilles underwent the lap-band procedure in order to lose weight a while ago. It's an invasive procedure, but not nearly as bad as gastric bypass, where they re-route your internal organs. This is a band that makes your stomach smaller so you don't eat as much.
It's very effective, but you do have to stay with it because it can expand on you and you can eventually say "forget this." But, clearly, Jean-Gilles has stayed with it and that's very impressive.
Geoff Mosher from Delawareonline.com reports that he's hearing that the big guy has dropped yet another 30 lbs. I saw a story a while ago that he had ballooned up to 398, and then got down to about 345. He said in that story that he might like to lose another six.
Well, he kept going because Mosher says he's in the 315-320 lb. range. That's amazing. And it's good for him too, because new offensive line coach Howard Mudd likes his linemen to be lean and athletic. At 400 lbs., Jean-Gilles was neither of those.
Would have been nice for him to actually have an offseason so he could get used to playing with the weight. He's going to need to jump in immediately and try to get acclimated. Would great to see his play benefit from the new body size.