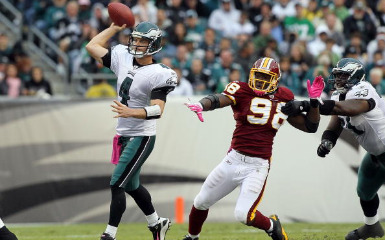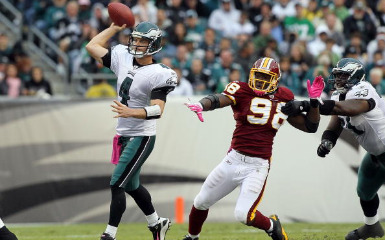 There was a previous report that Arizona Cardinals Pro Bowl receiver Larry Fitzgerald had made a request to the Cardinals front office for them to acquire the services of Eagles backup quarterback Kevin Kolb. Now we've got a report that goes even further.
Now FoxsportsArizona.com reports that Fitzgerald and Kolb scheduled and executed a private workout together.
"A source familiar with the situation told FOXSportsArizona.com that Fitzgerald and Kolb organized a private throwing session inside Arizona State University's Verde Dickey Center (the football team's practice bubble) earlier this month."
This trade continues to look more and more like a done deal. Kolb talked last week like he was no longer a Philadelphia Eagles said that he's been imagining himself as already being Arizona Cardinal. ESPN's Sal Paolantonio has reported that Kolb is already looking for a place to live in Arizona.
Who knows Kolb could wind up being a neighbor of Donovan McNabb's, since McNabb lives in Arizona.