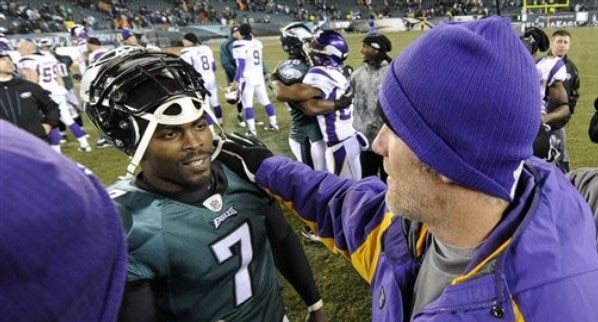 I told you about a month ago that it made sense for Andy Reid and the Eagles to sign future Hall of Famer Brett Favre to backup Michael Vick in the 2011 season. Some laughed at my comments, but I was serious because Favre could solve the Eagles need of having a championship caliber backup quarterback and the fact that Eagles have a chance to go to the big dance would be tempting for number 4.
Of course this move isn't necessary at the moment with Kevin Kolb still on the roster, but as soon as the CBA is agreed to by the NFL players, Kolb will be dealt to Arizona and the only backup Vick will have on the Eagles roster is second-year, inexperienced signal-caller Mike Kafka.
Reid and the Eagles would have an enraged fan base if Vick were to go down and all the Birds could do was send Kafka out there to lead this high-powered offense. It would be like giving the keys of a $200,000 Rolls Royce to a 16-year old kid who just got his driver's licence. Too much too soon.
Here are ten reasons why this signing makes sense for the Eagles and Brett Favre.
First of all, I've heard rumors that Favre is getting that itch to play again. Before anything can happen, he has to decide that he wants to play again. Favre has to look at the Eagles receivers and feel confident that he could be successful with those receivers if Vick were to go down. It would be easy for him to see himself throwing the ball to DeSean Jackson, Jeremy Maclin, Brent Celek and etc.
Secondly, the Eagles don't need a backup who doesn't give them a chance to win a Super Bowl, if Vick were to get injured. They surely wouldn't have much of a chance of winning a Super Bowl with Kafka as the starter, since he lacks any experience. Favre has the knowledge and familiarity of the Eagles west coast offense to run it well with everything on the line. There aren't many guys out there with that ability.
Thirdly, Reid has maintained a twenty-plus year relationship with Favre. He knows him like the back of his hand. Reid's relationship with Favre will allow the veteran passer to feel comfortable coming into the city after training camp knowing he can trust the guy who is calling the shots. The head coach knows Favre, therefore he knows how to talk to him and get everything out of him.
Fourth on the list, Favre will have to accept a backup role if he wants to continue to play. Reid and other coaches around the league know that Favre's body can't take the pounding of training camp or a full NFL season. Nobody is willing to offer him a starting position, so that's not an option for him. Previously Favre had said he was unwilling to accept a job as a backup but that was when he had other options.
Fifth on the list, Vick wouldn't be bothered by having a future Hall of Famer like Favre backing him up. Vick knows Favre's body can't
take a full season of pounding. The lefthander has already tweeted that he looks forward to learning how to attack defenses the way Favre has been able to do for two decades. "I would be honored to have Brett Favre as a backup. That will be amazing learning how to toy with defenses the way he did his whole career.". There would be no quarterback controversy because of the points the two quarterbacks are at in their careers.
Sixth on the list, Favre would be able to rest his body most of the season and get himself back into playing condition. With nearly an entire season of rest, Favre could get his body back to total health. He already has a great feel for the offense. With the rest, the veteran would be ready to go by season's end.
Seventh on the list, Favre doesn't need training camp to make himself capable of jumping off the bench, throwing three touchdowns and leading the team to a victory in a playoff game. How many other backup quarterbacks are capable of that?
Eighth on the list, the Eagles are a team which can deal with the hyper-attention it will get from having Brett Favre on the sidelines and in the locker room. Remember this team handled having Vick on the roster when he was radioactive. Reid, Jeffrey Lurie, Joe Banner and Howie Roseman know how to handle the media and controversy.
Ninth on the list, I don't think the Eagles would be bothered by stealing attention from the Phillies by signing Favre. The Birds don't have to deal with the Phillies on the NFL schedule but they do battle them for attention here in the city and having Favre on the sidelines would increase their local and national media coverage.
Finally number ten on the list, the Eagles with a couple of good moves in free agency or a key trade or two would be a serious Super Bowl pick. Favre would only want to go a team which had a chance at playing in the Super Bowl, so that has to be attractive to Favre. He didn't like the way his season ended a year ago, so he would have another chance to finish his career at the Super Bowl with a Lombardi Trophy.
Favre's agent Bus Cook was contacted today. Here's what the Associated Press reported. "Bus Cook said Monday morning that Favre hasn't talked to him about any sort of comeback and to his knowledge, Favre "hasn't talked to anybody else about a comeback" either."