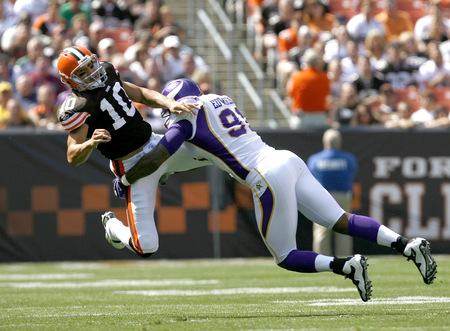 You know the Eagles formula. They want to sign young, ascending players to long term deals. If you looked at the production alone, the Eagles would be pursuing former Eagles, now Tennessee Titan free agent defensive end Jason Babin and his 12.5 sacks rather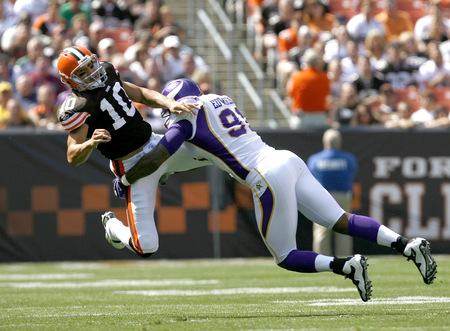 than Minnesota Vikings free agent defensive end Ray Edwards and his eight sacks.
The sack number isn't the only thing the Eagles are interested in when they compare Babin to Edwards. One is 31 years of age and the other is only 26. Yes Edwards hasn't lit up the sack numbers as of yet but he's one of the most effective pass rushers in the league according to Pro Football Focus.
PFF says Edwards is the fourth most effective passer in the NFL. The formula to measure the effectiveness of a pass rusher is very simple. You add up all the sacks, hurries and hits of a pass rusher, then divide it by the numbers of time the defender has rushed the
passer. Here's a look at the five most effective NFL pass rushers as Pro Football Focus:
1. Kansas City Chiefs – Tamba Hali (14.07)
2. Carolina Panthers – Charles Johnson (13.25)
3. Minnesota Vikings – Ray Edwards (12.98)
4. Pittsburgh Steelers – LaMarr Woodley (12.80)
5. Dallas Cowboys – DeMarcus Ware (12.38)
That's a lofty neighborhood which Edwards is in the middle of. I don't care what it is, if you're doing something better than DeMarcus Ware, I'm impressed.
Of course the fact that Edwards was playing opposite Jared Allen should be taken into account, but lining up with Trent Cole on the other side of the line will give Edwards the same opportunity to work one-on-one.
I'm sure the Eagles feel that Edwards is reaching his prime and new defensive line coach Jim Washburn will be able to help him take his game to another level. I agree with their reasoning and think it's a good move.