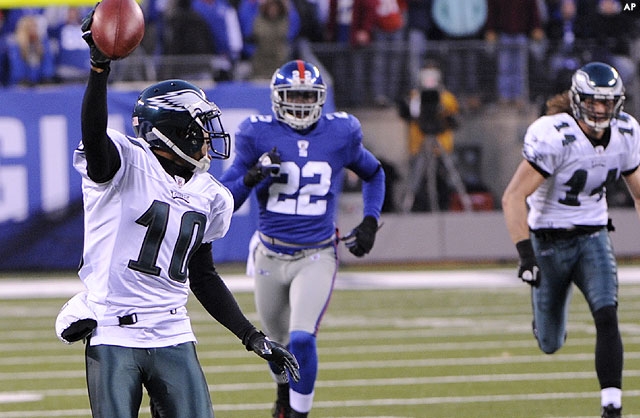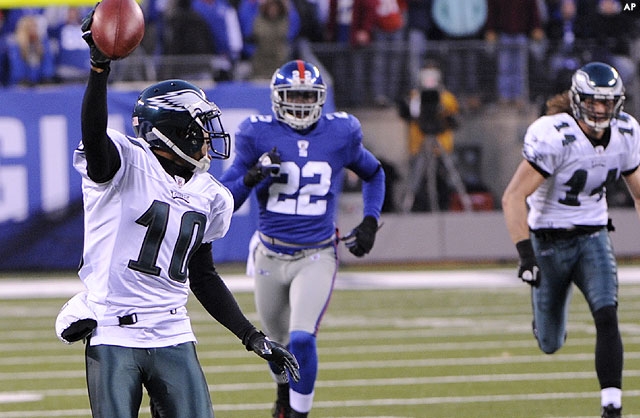 It one of the busiest days in the franchise's history the Philadelphia Eagles improved their defense by adding two Pro Bowl players, Jason Babin and Dominique Rodgers-Cromartie.
Jackson Should be in Camp by August 9th.
Everyone knows Desean Jackson was MIA from training camp today, what everyone doesn't know is Jackson will be in camp by August 9th. Why August 9th? As Ruben Frank pointed out in his column on CSNPHILLY.COM, under the new CBA any player not in camp by August 9th loses a pension credit towards becoming an unrestricted free agent. Assuming Jackson is in camp prior to August 9th he will be an unrestricted free agent after the 2011 season. In the mean time, do you think Drew Rosenhaus has Jackson doing sit-ups in his drive way?
DRC to Practice Right Away.
Obviously the Kolb for DRC and a second round pick is the biggest news from Thursday, however, a small note regarding the trade, since Dominique Rodgers-Cromartie was already under an existing contract he may begin practicing with the Eagles immediately. Andy Reid held a press conference on the trade, and offered the media his usual intriguing insight on Kolb "He's that good, where I know he could do this [ be a starting quarterback]" Reid told the media.
Sproles to Eagles?
Apparently there was a Darren Sproles contest that the Eagles became a finalist in, word around the internet is the Eagles, Saints, and Chargers are all "finalist" for the chance to sign running back Darren Sproles.
Bumps and Bruises.
Tackle Jason Peters and corner back Trevard Lindley left practice with the help of a trainer Thursday afternoon. How you manage to get hurt in a half speed practice with no pads is beyond me.
Redskins steal our Croc Punter.
CRIKEY! CSNWashington.com reports the Redskins are going to sign punter Sav Rocca. The Redskins signing of Rocca means Eagles' fans will still be treated to Rocca shanking punts this season. Rocca gets his first chance to shank a punt against his former team when the Eagles visit FedEx field, October 16th.
Babin Getting 30 Million.
As most fans know the Eagles signed defensive end Jason Babin Thursday, at the time of the initial announcement the money involved in the deal was unknown. The NFL Network's Jason LaCanfora is reporting via twitter the deal is 5 years for a total of $30 million. $30 million for a pass rush specialist? He better duplicate his 11 ½ sack season in 2011.