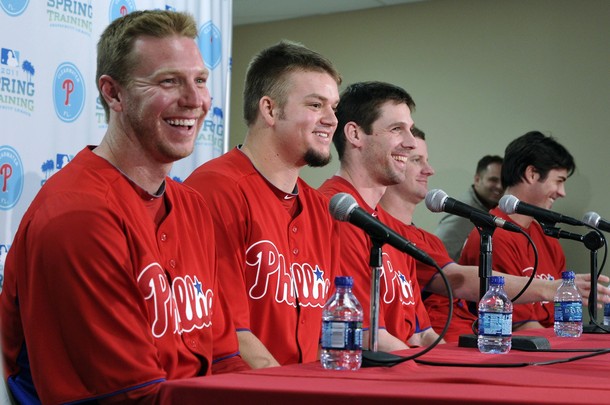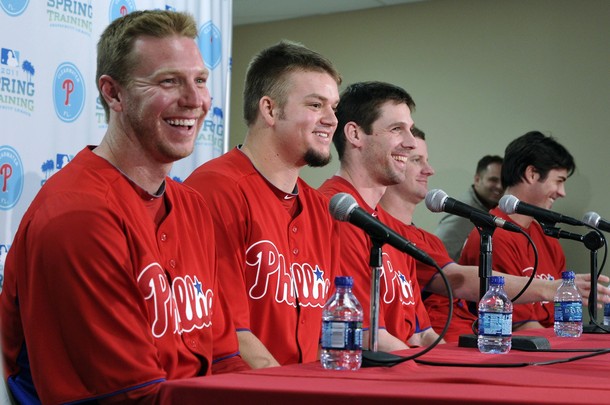 It's becoming a common trend seeing one of the Phillies starters go seven, eight, and sometimes all nine innings and recording the victory. When a rotation consists of future first-ballot Hall of Famer Roy Halladay and two of the league's top strikeout pitchers, Cliff Lee and Cole Hamels, there's going to be a lot of excitement surrounding each start.
So far, these pitchers have performed exceptionally. It's simple to look at their basic numbers: win-loss record, strikeout totals, and ERA. But there's so many more stats out there that make these three pitchers stand out even more.
One of these statistics is the WAR category. WAR, which stands for Wins Above Replacement, gauges the player's overall value and calculates the number of wins that given player contributes to his team. The Phillies have three pitchers in the top ten in WAR: Halladay (5.6), Hamels (4.6) and Lee (3.9). The leading pitcher in the WAR category is C.C. Sabathia with a 5.7 WAR. The so-called dominant starting rotation in San Francisco has only one pitcher in the top ten, and surprisingly it's not Tim Lincecum (3.6) or Matt Cain (3.6), it's Madison Bumgarner (3.9).
Ironically enough, two of the three worst pitchers in terms of WAR were former Phillies: J.A. Happ (-.01) and Brett Myers (-.01).
Another advanced stat is xFIP (Expected Fielding Independent Pitching). This is a more in-depth statistic that is based on the average number of home runs allowed per outfield fly; simply put, it's a predictor of a pitcher's future ERA. The Phillies have three pitchers in the top four: Halladay (2.56), Lee (2.78) and Hamels (2.82).
Then there's the WPA category (Win Probability Added). This is a little more easier to understand; it gives credit to each pitcher toward helping his team win the game. The Phillies have two in the top four: Hamels (3.51) and Halladay (3.47). Lee is at 1.73, surprisingly. But then again, it just proves that he is the streakiest pitcher out of the bunch. Once again, the worst WPA belongs to Happ (-2.48).
If you see where I'm going with this, dealing Happ to the Astros wound up being a terrific move.
There's many more stats out there, some of them are mind-boggling and nearly impossible to fully understand. But whatever the stat may be, there is bound to be a Phillies pitcher ranked high in the list.
The pitching staff has been incredible thus far, and now that Hunter Pence is in the lineup, there's no telling how far this team will go — the sky's the limit.