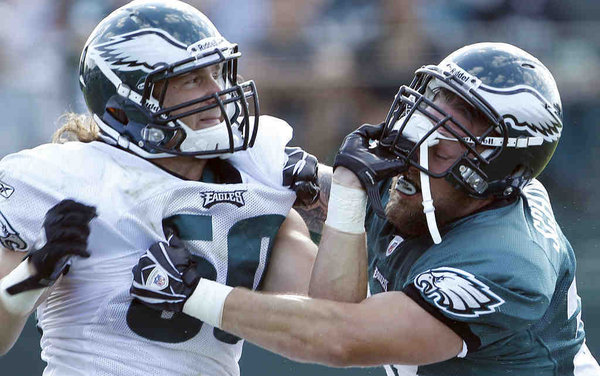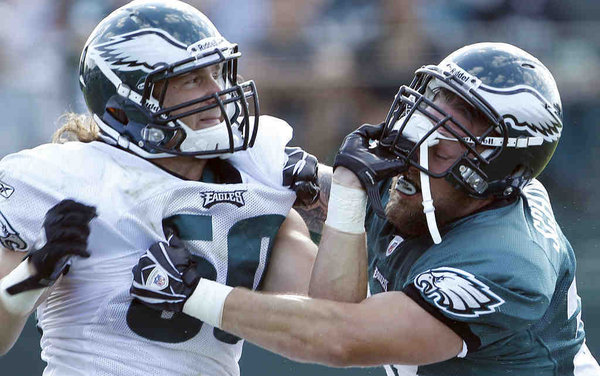 The Eagles were doing a one-on-one blitz drill, when rookie middle linebacker Casey Matthews was matched up against rookie running back Dion Lewis. I knew this was a mismatch. Matthews came up the middle running straight at Lewis who dropped as low as he could to get in order to get his lower body power up under him.
Lewis waited just before Matthews hit him, to explode and try to stop him, but the linebacker was ready for him. Matthews faked to his left then came back to right, grabbed Lewis' shoulder pads, did an arm over move and headed toward the quarterback. It would have been a sack, if it were a game.
I could tell somebody had taught the young man how to blitz. As I watched him closely at practice, I could tell that somebody had taught him quite a few other things.
Matthews told me he was shocked to find out he was starting at middle linebacker when he arrived at the Eagles training camp.
He's been able to jump in the driver's seat and drive the car so far, but it's hard to tell how good a player is, when the team does so little hitting.
I was surprised Jamar Chaney wasn't the starting middle linebacker, but I do like what I've seen so far out of the rookie middle linebacker. He's very fundamentally sound. He doesn't have any false steps when he's breaking on the ball or playing man-to-man in pass coverage. The young man knows how to focus and read his keys, then get off blocks and get to the ball.
The youngster told me he put 15 pounds while working out with his Pro Bowl brother, Clay as they prepared for the season. He may be heavier, weighing about 245, but it doesn't seem to have slowed him down. He's ahead of other rookie linebackers because of his knowledge he's received from his father and brother. He was playing middle linebacker at Oregon and calling the defensive signals for the last couple of years.
Casey knows how to blitz and use his hands. I can tell that he's been doing these drills for a long time. He understands football concepts which is a huge advantage over the other rookies. It's one of the reasons he's been able to pick up the defensive calls so quickly. He knows how to read formations and how to read pass routes.
During the team drills, he was able to get the defense in and out of the huddle rather quickly. Casey has had a short period of time to decipher the defensive calls and signals. So far the rookie has been on top of it.
Casey needs to get in some games and make some plays and that will make his teammates believe in him. He needs more confidence in his voice and demeanor, and that will come if he gets in there and starts making plays. He will be able to run the huddle with some swagger, as soon as he proves himself to the team's defense stars, like Trent Cole, Cullen Jenkins, Asante Samuel, Nmandi Asomugha and Dominique Rodgers-Cromartie.
He can't be intimidated by the presence of these great players. He's got to focus on doing his job and everything else will come along with him making plays.
I know his father has been able to teach him all the fundamentals of playing the linebacker position. I played side by side with his father at USC and I can see the facial similarities as well as resemblances of his Dad in his game. His Dad and I were both linebackers for the Trojans. Like his Dad, Casey and his brother Clay are chiseled with muscles.
The biggest thing I like about Casey is his instincts. The young man has a great feel for the game and you can't teach this. He's always around the football. I watched him at Oregon and saw that part of his game. I've seen the same thing from him at the training camp workouts.
I don't know if the Birds are going to stay with him as the starter in the middle, but regardless he's going to be on the field and playing linebacker this year for the Eagles. Right now, they have him on the field in nickel, as well.