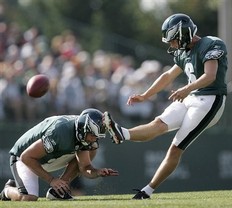 Heading into the 2011 NFL season, the Philadelphia Eagles seem to be extremely confident in their two rookie kick specialists.
Although both kicker David Akers and punter Sav Rocca were allowed to walk, I was certain that coach Andy Reid would acquire at least one veteran to provide competition, especially at punter.
That has yet to be the case.  Philly is putting a lot of trust in punter Chas Henry and kicker Alex Henery.  I got a chance to observe them during my trip to Lehigh University.
Henery, the former Nebraska Cornhusker, was going thru a drill that should help his accuracy.  The goal posts were narrowed to the point where they looked like Arena League posts.
The most accurate kicker in NCAA history showed why the Eagles drafted him in the 4th round.  He consistently drilled his kicks right through the middle.
Henry, the 2010 Ray Guy award recipient, showed off his foot next.  Don't expect a bunch of 70 yard kicks down the field.
What can be expected is the majority of opposing punt returners signaling for a fair catch.
Henry's punts look like rockets taking off into orbit.  He just needs to keep working on his motions to avoid blocked punts.
Overall, the biggest negative about Henry and Henery (that's going to get very confusing) is the fact that they're unproven.  Reid and special teams coordinator Bobby April have seen enough to allow them to prove themselves.
If they continue to be impressive on Sundays, this may very well be the Eagles kicking duo  for the next twelve years.