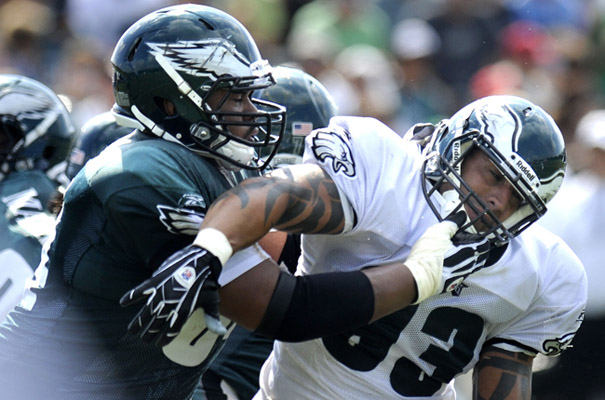 I didn't even have to talk to Winston Justice this morning, I could tell what was on his mind. He looked worried. I walked by him during and after practice. The veteran tackle had the same look on his face. He's trying to hang onto his starting job, but hasn't been able to practice yet this summer.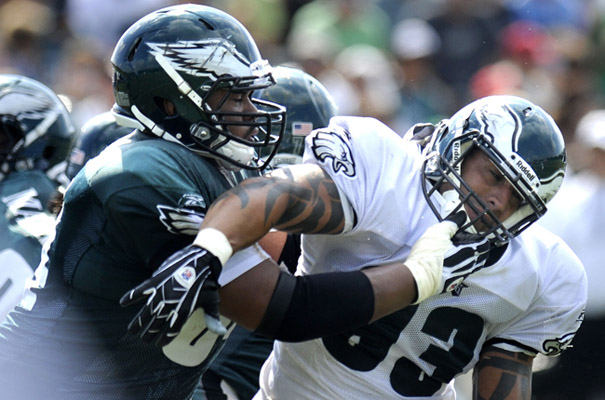 That's not a good thing, when you finished your season a year ago on the bench in a playoff game.
New offensive tackle Ryan Harris has his eyes on Justice's job.
I got a short look at Harris but it wasn't enough for me to give him a thumbs up or thumbs down. He looks and sounds like a good, intelligent athlete with the size to get the job done. I didn't focus on him during the workout, I know I didn't see his man getting to the quarterback, which is really all that matters.
I talked to Harris after practice and he talked about all the new techniques he's had to learn from new offensive line coach Howard Mudd. I could tell that Harris is a cool confident customer, which the attitude you must have to survive at offensive tackle in this league with all of these phenomenally talented defensive ends in the league.
Harris isn't overly worked up about his opportunity at right tackle. He said he's taking it a play at a time and a practice at a time and not getting ahead of himself. I'll tell you who he's ahead of. It's Winston Justice. If Justice doesn't get on the field with the quickness his starting spot is going to be gone.
There have been a number of reports that Justice is planning on returning to action very soon. He'd better get out there ASAP.