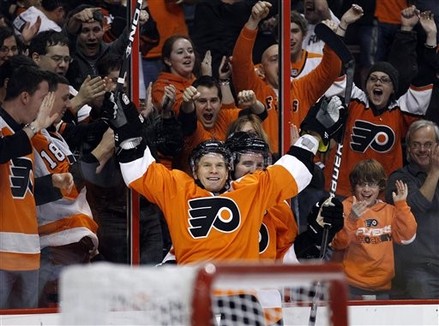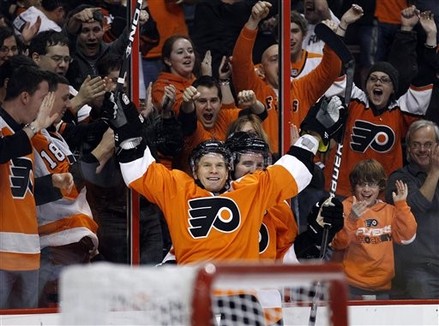 Kimmo Timonen, 36 year-old iron man of the Philadelphia Flyers' defensive corps, is two years away from the expiration of his current $6.33 million contract. He has indicated on numerous occasions that he intends to retire at the end of his contract, and a recent report by Finnish station Yle (and translated by Teemu of Broad Street Hockey) reiterates the same message.
Time is running out.
The defense is set for the 2011-12 season- Timonen will once again partner with Braydon Coburn, Chris Pronger will team with Matt Carle, and Andrej Meszaros will likely join new teammate Andreas Lilja.
This is assuming Pronger will be able to play another full season, but an update earlier today has raised more concerns than ease them. According to the Flyers\' web site, Pronger told reporters, "I haven't lifted a weight in the last six months… Strength, for my position and the way I play, is critical. So I've got to gain my strength back before I begin skating."
Back in May, Pronger told reporters that he was still rehabbing his hand while he worked out issues with his back and leg. The hand appears to be the only injury that is still bothering him. "My hand, I guess, would be about 80% healed, maybe 85% healed. I had the plate removed, so I'm just waiting for the screw holes to fill in." He is still hopeful that he will be ready to play by October, but he also indicated he isn't going to rush his recovery.
Pronger's health isn't the only question mark surrounding the future of the Flyers' blue line. Both Carle and Coburn will be unrestricted free agents in 2012 and are due healthy raises.  It would be shocking if the organization could retain both players.
Coburn's offensive contributions have fallen every year since 2007-08, when he put up 9 goals and 36 points.  He only put up 16 points last season (with an average of 25 points over four seasons), but he is able to use his size to very effectively shut down top competition in the league.
Carle, meanwhile, averaged 32 points per season over the last five years. Many of his detractors point to his pairing with Pronger as the reason he has flourished in Philadelphia, but he handled the competition just fine with Meszaros and Danny Syvret while Pronger was in the press box.
Here are some of the higher contracts doled out to defensemen this offseason, for reference:
Shea Weber, 26: One year with $7.5 million cap hit; averages 41 points per season
Joni Pitkanen, 28: Three years with $4.5 million cap hit; averages 37 points per season
Christian Ehrhoff, 29: Ten years with $4.0 million cap hit; averages 34 points per season
Eric Brewer, 32: Four years with $3.85 million cap hit; averages 20 points per season
Jan Hejda, 33: Four years with $3.25 million cap hit; averages 17 points per season
In other words, the Flyers may be able to sign one of them in the $4.0± million range, but it's unrealistic to think they can sign both.
Optimally, they can find one or two players from within the system to step up at that time, but there are any number of variables that can come into play between now and then.  At the very least, the organization may need to consider reducing Timonen's 22:00± and Pronger's 27:00± a night over the next two seasons.
For the latest Flyers news and updates, you can follow me on twitter (@JoshJanet).