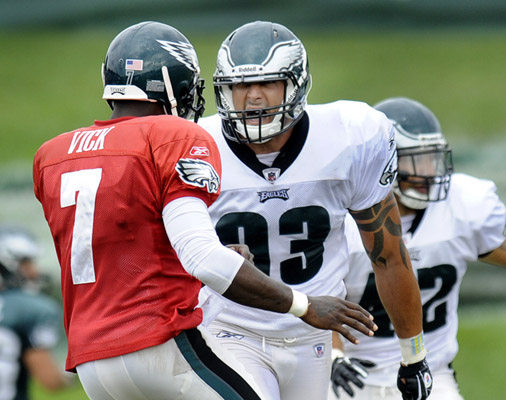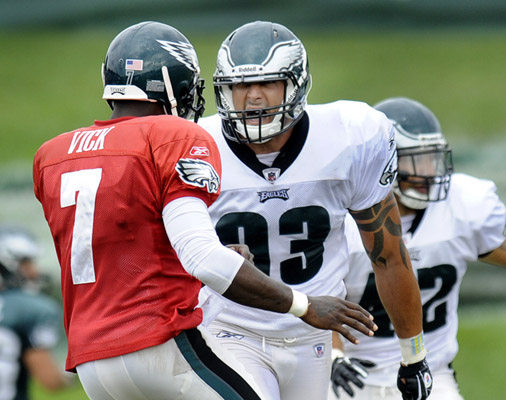 The Birds got in a physical and competitive practice yesterday. It's the last workout they'll have until Saturday. They're off today. Tomorrow is the day before the game so they'll do very little. The game is on Thursday and Friday is the day after the game.
I'm sure Michael Vick would tell that yesterday wasn't his best production versus the blitz. He got some completions on a number of short throws, but the defense performed better than the offense yesterday. He had quite a few balls knocked down and broken up. The pressure was on him and they were coming from every direction.
One time Vick was hit by a bulldozer yesterday when the inside blocking got run back into his lap on one play versus the blitz.
The Eagles have emphasized letting Vick work against the blitz. Yesterday they had two or three periods which focused on the offense operating versus the blitz.
Backup quarterback Vince Young has been struggling to learn the system. At times his group seems to struggle getting out of the huddle. A number of times when they did get out of the huddle, somebody was lining up wrong. We'll keep you posted but he's go a ways to go.
Rookie middle linebacker, Casey Matthews did a nice job of getting his hands up on a blitz and knocking the pass down. Matthews is doing a good job in the middle, but needs to gain another half-a-step in anticipation before he starts making some big plays.
There best linebacker right now is the same guy who was their best linebacker last year and that's Jamar Chaney. He's been breaking up passes, getting to the quarterback on blitzes and he's has the ability to get to the football. Chaney is a tackling machine.
Moise Fokou is a decent linebacker, but nothing to write home about. During the season, if the Eagles are able to limit the opposing offense to three yards or less on the first down, they've have their nickel defense in the game on second down and Fokou will come off the field.
Vick read a blitz yesterday, then took his time looking downfield to draw all of the rushers to him. At the last second he dumped the ball over their heads in what looked like a perfectly orchestrated screen, but out of no where came safety Kurt Coleman. The safety ran right through McCoy like he was a paper bag. It was a great play and a good hit.
Coleman has been having a good camp and right now he's their most dependable safety. All the other safeties, namely Nate Allen and Marlin Jackson. Allen doesn't practice full-time because he's coming back from knee surgery.
Jackson is