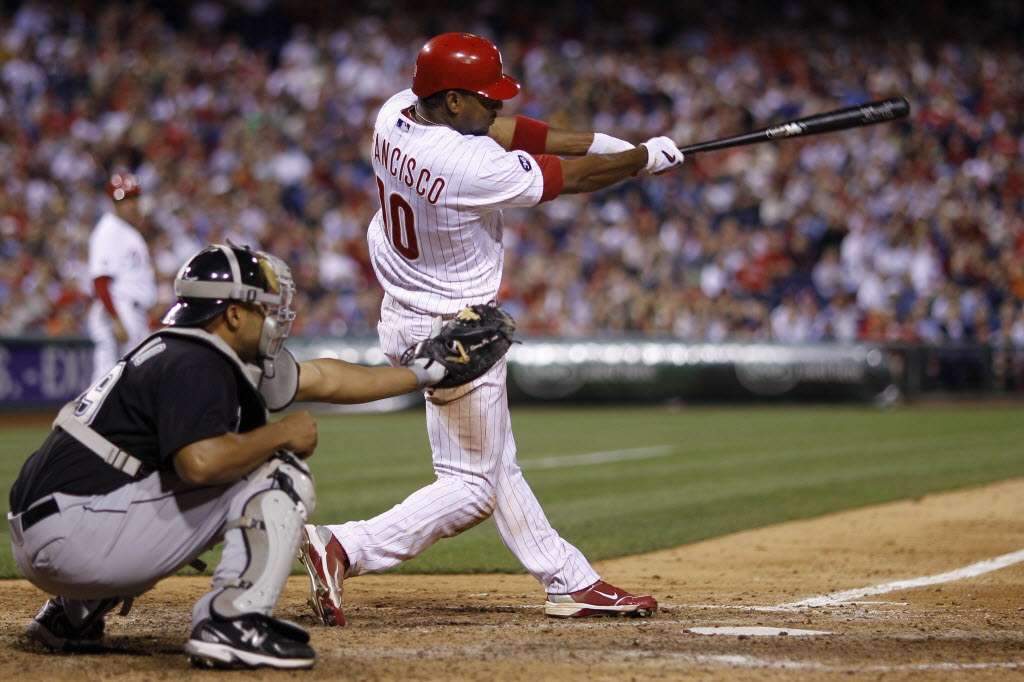 Sunday afternoon, Roy Oswalt made his first start since being placed on the disabled list with a back injury in June. The former All-Star went a respectable six innings while giving up three runs in a loss to Tim Lincecum. The night before Oswalt's return, Charlie Manuel sat in his office trying to decide who would be optioned to Triple A to make room for the right-handed hurler. Talk floated around Philly's locker room of Wilson Valdez, Juan Perez and Ben Francisco being on the chopping block.
With the Phillies already working with a fragile infield, Valdez was safe. The skipper told reporters, "With Polly, Utley and (Jimmy) Rollins' history, right now we definitely think two infielders are important for us." Despite his .071 batting average when pinch hitting, the Phil's lack of infield depth bought journey man some more time in the big leagues.
Perez appeared in eight games giving up only two earned runs since being recalled from Triple A after Jose Contreras was sidelined with an injury. Pitching Coach Rich Dubee likes the lefty's secondary pitches and said he did not want to have a short bullpen for an extended period of time. So it seemed as though the 32-year-old gun-slinger was safe and Francisco was on his way out.
The California native has seen his playing time nearly evaporate since the all-star break and his productivity has seemed to disappear as well. When resting Raul Ibanez, Manuel opted to play John Mayberry Jr., who homered his first at bat, over the struggling Francisco.
Despite a double in Sunday afternoon's win, the once promising outfielder's stats have turned horrid. He has appeared in ten games since July's festivities and has only reached base three times.
The normally hawk-eyed contact hitter has seen his on-base-percentage that once climbed as high as .348, collapse down to .143 in his last 14-at-bats. Francisco was looking like the right guy to get the boot on a team with a surplus of outfielders. However, despite the stats and Dubee's desires, the veteran bench minder sent Perez down to Triple A.
So what does this mean for Francisco? Will the once-starter be able to finish out the year in the Majors?
Don't count on it. After starting the season in right field, Jayson Werth's replacement had a red hot April with four home runs. His surprising numbers were short lived and since May 1st, Francisco is batting .185 with a .507 OPS. The outfielder's speed seems to be fading in the rear view mirror as well. In seven stolen base attempts, he has been caught four times. The 29-year-old may have reached his unfortunate peak and the Phillies need to decide what his role is worth to the team.
The argument to keep Francisco in the Bigs is growing weaker game after game. With Mayberry Jr. taking advantage of playing time, the former Mariner may be sent to the minors for the first time since making it to the show three years ago.