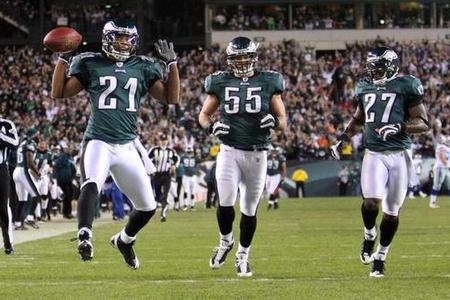 Despite the fact that the Eagles have added two Pro Bowl cornerbacks to their defensive backfield, the best nickel back they have is Joselio Hanson.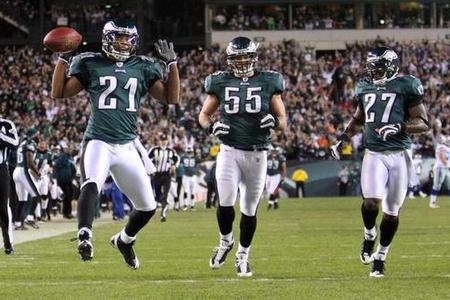 Hanson fits the nickel back position because he's a very good tackler, blitzer and coverage guy inside against the slot receivers in the league. He's very strong and quick, which helps him to get physical with opposing slot receivers.
Most importantly Hanson has years of experience at the nickel spot. He knows how to camouflage a blitz when he coming from the outside. The cornerback knows how use his quickness against the bigger and stronger offensive linemen. Even though he's small, He' s not afraid to go in their full speed.
it's not an easy position to play because you've got to have both cornerback and linebacker skills. Hanson knows how to get off a block when he's defending a running play.
Nmandi Asomugha and Dominique Rodgers-Cromartie looked uncomfortable at the position, but I think they can adjust to it over time. I had to laugh when I saw the apprehension of Asomugha running an inside bltiz while knowing a guard to tackle could slide off a block to pick him up. He wasn't running in there very hard which is understandable.
Right now on August 15, 2011 Hanson is the team's best nickel back, but they can't keep him here.
Hanson is slated to make $2.6 million dollar this year as the team's fourth or fifth best cornerback. The Birds can't afford to that plus they're not going to release or trade young cornerbacks, Trevard Lindley and Curtis Marsh. They're talented top draft picks, who should help the Birds this year and in the future.
What all this means is that Hanson must be traded. The Birds will get a fifth, sixth or seventh round draft pick for Hanson, depending on how desperate the other team is for him.
Not only do the Eagles know that Hanson is a very good player whom they must trade. Other teams are aware of it, so expect Hanson to be dealt elsewhere in the near future.