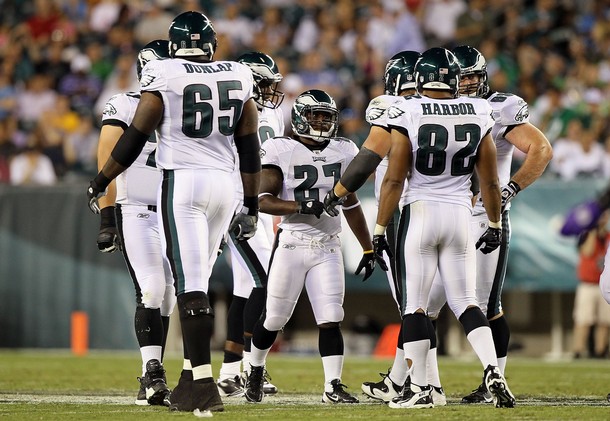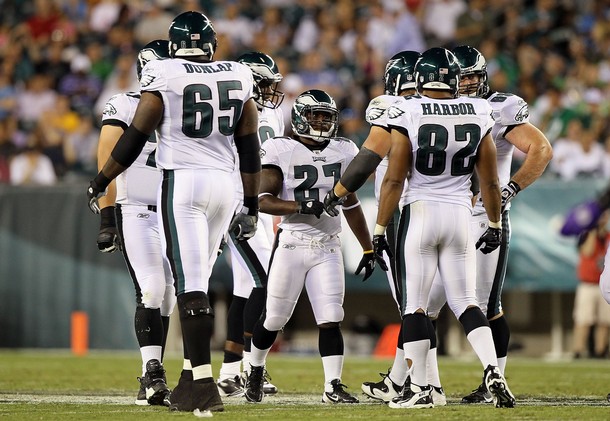 As I said with the defensive players, the Eagles are going to say good-bye to some good football players. As I said with the defensive players, some of these offensive players will find their way onto other rosters around the league. This isn't a comprehensive article on who will or won't make the team. it's much too early for that with three preseason games remaining.
Dion Lewis is a runt, but he's a quick runt who can run with the football. I thought he was more effective running with the football than Ronnie Brown on Thursday night. Like the other short backs in the league, Lewis is able to get by the big defensive linemen because they have no idea where he's at until it's too late.
Eldra Buckley is competing with Lewis for that third halfback position, but I've also seen the Birds giving him reps at fullback. That says they're trying to find a way to hang onto Buckley. He's a very tough physical runner and blocker, but Lewis may get the job if he continues to be as productive as he was on Thursday night.
Fullback Stanley Havili needs to do something now, if he's ever going to compete for the fullback job. He's got to make some plays as a runner or receiver for the coaches to consider keeping him around. His blocking is inconsistent, but he could give Owen Schmitt a
run for his money if he can make a play or two.
I know how much Reid and offensive coordinator Marty Mornhinweg like to have a playmaker at the fullback spot because Leonard Weaver showed how they can take advantage of that. I've also seem them working Buckley in at the fullback position. You can see they want to keep Buckley on this football team.
Cornelius Ingram looks healthy finally. He's running his routes and blocking better but Donald Lee has been more productive at camp by far. Lee knows the offense better than Ingram and he's a much better blocker than Harbor, so I see him remaining and that means Ingram will get the ticket out of town. I think he will show up on somebody else's roster.
Eagles diminutive Mr. Everything is Chad Hall. He can line up inside or outside and in the backfield at running back for the Birds. You saw last year how much Reid enjoyed moving him around all over the place in formations. Hall has shown he can make the tough catch down the middle and he can get open after lining up outside. He returns punts and kickoffs, but do you keep a guy around with his lack of size and big-time speed.
Hall is a faster Reno Mahe and you know how long he stayed around. Still, there's no guarantee he'll be on the football team.
Sinorice Moss was the best wide receiver on the team through the first week of camp, but he's gone south since then. He was getting
open, getting deep plus catching everything that touched his hands. Unfortunately he injured his finger and hasn't been nearly as productive. Hall is far ahead of him now.
Johnnie Lee Higgins has been the next guy in line at the wide receiver position. He does have some deep speed, plus I've seen a comfort from in the offense. I have him ahead of Moss at this stage, but he's going to need to shine on the special teams in order to make the team.
I think only one of the young offensive tackles will remain. It will be either King Dunlap or Austin Howard. I don't think Howard Mudd is in love with either one of them. Mudd like smaller offensive linemen, not giants like Dunlap an Howard. Neither has been as consistent as they need to be.
I could see Mudd leading the Eagles to grab a tackle or two, whom he is more comfortable with at the end of the preseason.