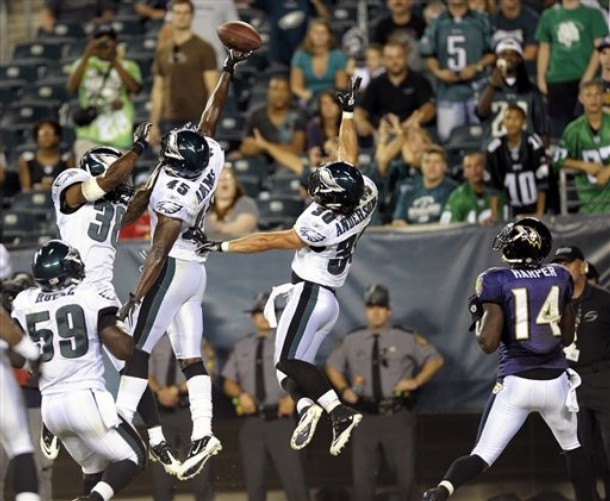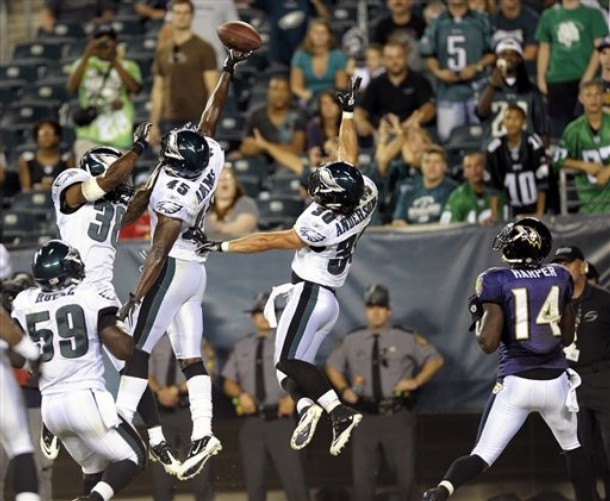 The Eagles will be forced to release some good football players at the end of the preseason. Quite a few of them will wind up on other NFL teams shortly thereafter, which says something about the talent which the Eagles have on the roster. I took a quick look at the Eagles roster and wrote down my impressions of some of the players, whom I feel will be tough decisions when the team has to get the roster down to 53. This isn't a comprehensive article on who will or won't make this football team.
I like the burst off the corner of Eagles diminutive defensive end Phillip Hunt. This young man has the potential to be an elite pass rusher because of his quick feet and quick hands. Spending more time in the weight room will make him a better player and more complete player. Hunt has tremendous body control and will probably get better with time because he's going to develop more pass rush moves.
I definitely believe that he will have a job in the NFL after this training camp, if he continues to rush the passer the way he's been doing. It's going to be difficult for him to do much against the run since he stands only 6'0″ and weighs only 245 pounds, so that will limit his attractiveness.
It might get him cut here. I doubt that it will happen right now but long-time starting defensive end Juqua Parker could quicken his exit by constantly batting injuries. If it were next year, I would favor Hunt over Parker for the job.
Eagles 2010 third round pick Daniel Te'o Nesheim has been showing a great deal of improvement. He's playing with more passion and strength. At times I'll see him flash into the backfield on a run or passing play. He's still got a ways to go, but I can see promise in him and can see him working his way onto the field for some meaningful snaps this year.
Washburn has him getting off the ball and using his hands to get rid of blockers.
Eagles defensive tackle Derek Landri had an outstanding game against the Ravens. He registered a sack and lived in the Baltimore backfield. I would imagine the Birds coaching staff is considering keeping him around, since he's a proven NFL player. Nobody knows what's going to happen with Mike Patterson and Trevor Laws. I couldn't see the Birds not finding a way to keep him on the roster until the middle of the season. It depends how long it will take for the coaching staff to know whether Patterson and Laws are going to be
available to play this year.
Defensive lineman Anthony Hargrove brought his lunch pail with him when he came to camp and he's been working. He's physical and athletic at the same time with the type of work ethic that defensive line Jim Washburn wants. Hargrove and Landri may wind up battling for the same job.
Akeem Jordan has played the Sam, Mike and Will linebacker positions for the Eagles, so I don't see them releasing him because they have no experienced depth without him. I see more speed with some of the other linebackers, but they've got quite a few Eagles linebackers, Keenan Clayton and Brian Rolle, who look more like safeties than linebackers.
I do think Clayton and Rolle fit into the Eagles pass-defense first philosophy. Although undersized, they've both got great speed and pass coverage skills but I don't know if they can line up as a regular linebacker game in and game out versus some of the tough running attacks the Birds are going to face.
Clayton will be here, but Rolle is on the bubble. I see the Eagles trying to utilize both Clayton and Rolle in defensive schemes where they're playing a linebacker/safety role.
Greg Lloyd shows signs of being a good player, but he's not consistent which is usual for rookies. He's got some size and could back up at all of the linebacker positions, so the young man has a chance to make the football team.
I predict right now that Eagles cornerback Brandon Hughes will be released by the Birds late in camp and wind up playing for one of the cover two defenses in Indianapolis, Chicago or Tampa Bay. He's got the ideal size and skill set for that assignment. I like the way Hughes is physical with receivers and will probably thrive in the two-deep style of defense.
Hughes has played well enough to make this football team, but Curtis Marsh and Trevard Lindley were high draft picks with tremendous ability. Marsh is playing well enough to be the fourth corner, but I think Hughes has outplayed Lindley. In fairness all of them have played well enough to get playing time in most years. This year is a different situation.
In a strange way, safety Colt Anderson could be competing with a linebacker for his job. Anderson came here because of special teams ability and he's a very good specialty performer, who was making plays all over the place when arrived here last year. I've been surprised by his play as a safety. He can play.
Newly acquired Jarrad Page seems to be just what the Eagles need at safety. You could see right away at practice that he takes charge when he's in there. I think he's moved ahead of Anderson because of his resume and the way he's played and practiced in the short times he's been here.