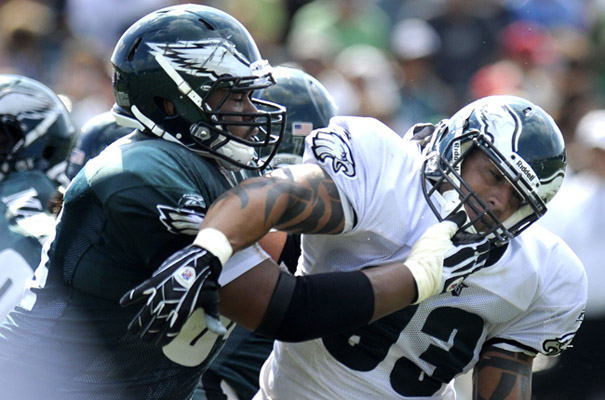 The Eagles were concerned about the right offensive tackle position when training camp started and now with training camp having come to a close, they're still concerned about it.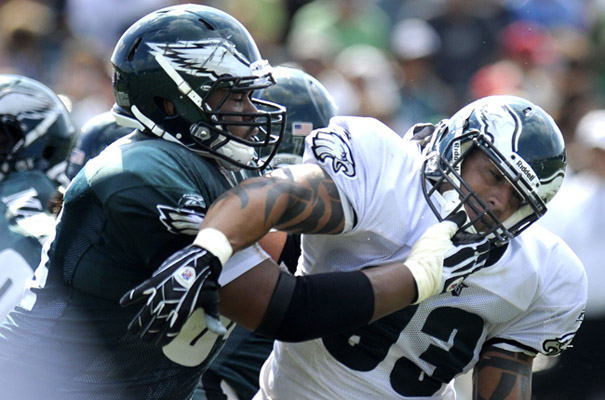 Winston Justice started there last season, but he's trying to come back from microfracture surgery on his knee this past offseason. Quite honestly, when the season ended a year ago, we weren't sure he could do the job, He was benched in the Packers game as he tried to play with the knee injury. We're still not sure he can be the guy because he hasn't practiced at all during the training camp.
Yesterday, Eagles head coach Andy Reid was asked about the condition of Justice.
"Well we'll see, he's close, he's close right now", Reid said. "He's had a couple tough workouts here, and he is feeling better. We're going to see when we get back there, Friday and Saturday, just exactly how he feels. We'll reconvene on Saturday, but he might sneak over there and do his rehab work and make sure he's ready."
King Dunlap was the backup a year ago and he's still on the scene. Dunlap who is 6'7" with tremendously long legs, which make it difficult for him to get underneath defensive linemen and prevent them from getting underneath him and driving him into the quarterback. He's gotten stronger but I don't know if he's strong enough or a possessor of good enough technique to do the job.
At this point in his career, he's still considered an unfinished project. You don't start unfinished projects on what you believe is a Super Bowl-caliber team.
The final player in the battle for the starting right tackle position is Ryan Harris, who was signed as a free agent and started against the Ravens. He seemed like he was going to be the answer. Harris showed sound technique and good quickness.
I like the fact that he had started in 34 games for the Broncos and he's a better pass blocker than run blocker, which is fine since he was going to be protecting Michael Vick's blindside. I guess too many people spoke too much too soon.
Harris hasn't practiced since the game last week. He's been having back spasms and those spasms have kept him out of an entire week's worth of practice. We have also learned that he's had two back surgeries.
The time you mention an offensive lineman having back spasms after back surgery, my mind conjures up images of Shawn Andrews. If back spasms are keeping Harris out of action now, what's to stop those same back spasms from sidelining him before the biggest game of the season.
So here we are with the second pre-season game approaching against the Pittsburgh Steelers and we're going to ask Dunlap to start at right tackle and protect Vick from the likes of James Harrison and LeMarr Woodley. Even a blind man could see that Harrison and Woodely versus Dunlap isn't a good matchup.
Yesterday, Reid talked about Dunlap getting the chance to start against the Steelers tomorrow night and treated it like it was no big deal.
"It's an opportunity, right", Reid said. "What more can you ask for being a football player? You're given an opportunity to work with the ones so you go in and try to capture the moment."
If I were coaching the Eagles against the Steelers, I would have a tight end and fullback lined up on Dunlap's side helping him block either Harrison or Woodley. They can't give one of these guys a shot at hitting Vick from his blindside.
Now concerning the right tackle situation going ahead, the answer to this problem might not be on the team. Reid has talked about Justice getting better and getting close to returning to action.
At moment they're not willing to move left guard Todd Herremans to the position. I know it's something they don't want to do, but they may be forced into that move in the future.
Right now it's just a waiting game. Can they acquire a starting right tackle in a trade or off the waiver wire? The other question is when will Harris and Justice be able to return to action. Stay tuned.