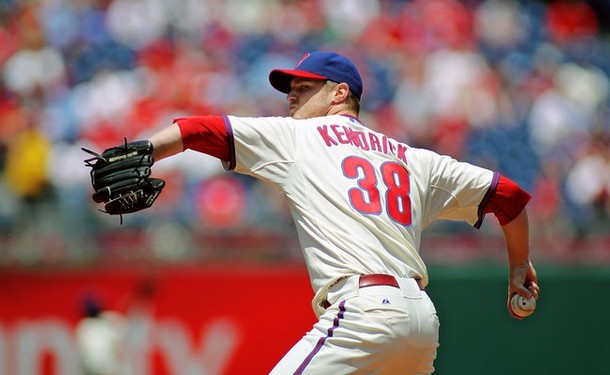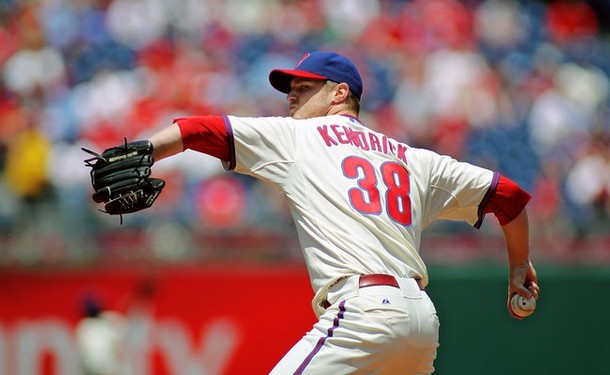 Pitchers are known for being creatures of habit. They thrive on knowing what exactly their role is and when they can expect to pitch so that they can do what they need to do to properly prepare themselves from a physical and mental standpoint. Kyle Kendrick has gone the entire season shifting from one role to another, and has performed well in all of them.
Kendrick has seen action as a regular member of the rotation, a long-reliever, an emergency spot-starter, and as a seventh inning reliever. For the season, he is 7-5 with an ERA of 3.24. He's appeared in 29 games, including 12 starts. In seven of his 12 starts, he's allowed three earned runs or less. He's 4-3 with a 3.44 ERA as a starter, and 3-2 with a 2.76 ERA as a reliever.
Kendrick made an emergency start on Friday against Washington due to the rain delay, and put the Phillies in a position to win the game. He lasted six innings, giving up two runs on just five hits, striking out four and walking one.
Kendrick has pitched above what anyone could have expected of him, but his efforts become an afterthought in a rotation packed with four aces, as well as Vance Worley, who is enjoying a strong season of his own. However, despite receiving very little time in the spotlight, he's been an important part of the pitching staff.
Perhaps the limited appearances serve Kendrick well. With limited opportunities, it forces him to increase his focus during his few opportunities. Every chance he gets to pitch is a chance for him to build the team's confidence in him. He was nothing more than a fringe fifth starter entering the season, who had struggled to stay in the major leagues.
Kendrick has pitched well enough to warrant a spot in the rotation, but with the rotation absolutely stacked with quality arms, there isn't any room for Kendrick and his 3.44 ERA as a starter. It just speaks to the depth of quality starters in the organization. Having an effective, versatile pitcher that is constantly available for a number of different duties, and ready to pitch at a moment's notice has been quite an asset. Kendrick has seemed to embrace his role, and has been thriving in it.
If you want to leave a message about Philly sports to have it put up on GCobb.com, give us a call at (856) 673-6282 and leave your message. For the latest Philly sports news and updates, you can follow us on twitter (@GarryCobb).