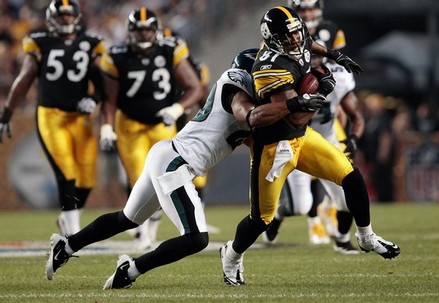 As I watched the Eagles second preseason game unfold, I couldn't help but reminisce back to the most successful season during the Andy Reid era.
The 2004 season started with extremely high expectations.  After 3 straight NFC Championship losses, Philly acquired DE Jevon Kearse and traded for WR Terrell Owens.
Hugh Douglas and Jeremiah Trotter also returned after brief stints in Jacksonville and Washington, D.C, respectively.
The atmosphere at Lehigh University was electric and fans just knew the Eagles were going to the Super Bowl from the beginning.
After a 7-0 start to the regular season, Philly was flying high on their way across state for a match against the Pittsburgh Steelers.
My, how quickly things came back down to earth.  Reid and Co. were given a quick reality check via a 27-3 rout at Heinz Field.  The Eagles regrouped and eventually made it to the Super Bowl, but that game in western Pennsylvania was definitely a trying moment.
Thinking back to that game, maybe a preseason loss to the Steelers was a good thing. The 24-14 defeat likely would've been a 49-0 beatdown if this game were played in the regular season.
Normally, the Eagles are able to get through the regular season and end up getting exposed towards the end of the season and in the playoffs
The defending AFC Champs exploited multiple weaknesses, giving the so-called "Dream Team" a huge wake up call.
No, Hines Ward wasn't imitating T.O.'s "flapping the wing" celebration.  You didn't see Owens yelling at Donovan McNabb up and down the sideline.
What was similar was Pittsburgh's time of possession (They held the ball over 41 minutes in the 2004 game).  The Steelers didn't gash the Birds for 252 yards, but they did show that this defense isn't equipped to deal with a power running game (Surprised??).
After that loss on November 7, the late Jimmy Johnson made Trotter his starter at middle linebacker.  Will rookie defensive coordinator Juan Castillo make the same adjustment?
I'm sure Michael Vick would like to forget this game.  I don't if it was the GQ interview or the fact that King Dunlap was protecting his blindside, but it looked like he left all of his
improvements in Bethlehem, PA.
This was DeSean Jackson's first game appearance.  Soon, he'll be joined by Jeremy Maclin and Steve Smith.  The interior line will eventually be manned by Mike Paterson and Antonio Dixon which will improve the run defense.
The right tackle position will be addressed and possibly 2-3 new faces will be part of this squad.  If this organization is known for its stability and the free agents are truly of high character, than this type of beating will only bring the Eagles closer and help them in the long run.
It happened in 2004.  Let's hope it happens in 2011 with even better results!!!
If you want to leave a message about Philly sports to have it put up on GCobb.com, give us a call at (856) 673-6282 and leave your message. For the latest Philly sports news and updates, you can follow us on twitter (@GarryCobb).