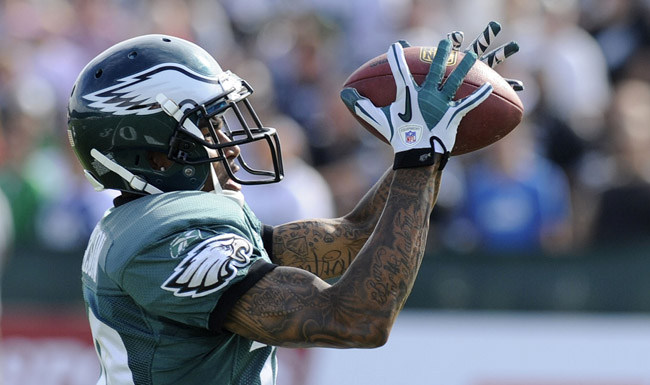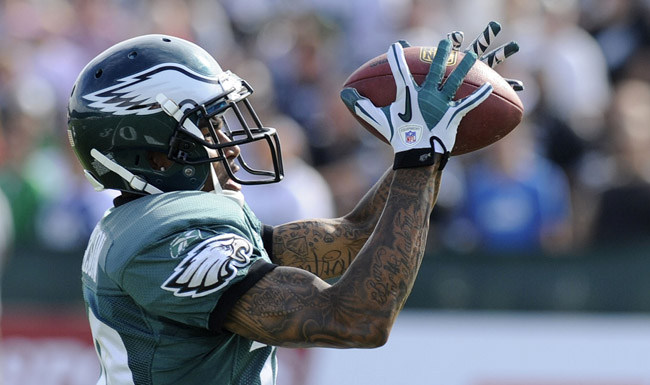 Eagles Pro Bowl wide receiver DeSean Jackson made it very clear that he was happy about the record contract signed by Arizona Cardinals wide receiver Larry Fitzgerald. "Congratulations to him. … He got a good contract, so, of course," Jackson said Monday at the NovaCare Complex following practice. Fitzgerald "is a good friend of mine."
Jackson didn't say it but he knows that Fitzgerald's deal will help him, even though he readily admits that he hasn't reached the Arizona receiver's level just yet.
"He's been in the league, of course, a longer time than me," Jackson said. "It's his third deal. As far as him being a different player than myself and to compare us and what type of receivers we are — he's a totally different receiver than I am."
When you compare the two players, the big thing that jumps out at you is the fact that Fitzgerald catches almost twice the number of passes as Jackson, despite the little guy is very close to him in yards gained. Jackson is a home run hitter, while Fitzgerald gets more singles and doubles.
Fitzgerald has averaged 93 catches for 1,220 yards, 13.1 yards a catch and 10 receiving TDs in seven NFL seasons. He's nearly impossible to stop because he will go inside and catch the ball over the middle. He make plays downfield by going up and taking the ball from a defender. He makes the tough catch in a crowd and takes the hit.
Jackson is a completely different type of receiver. He doesn't catch nearly as many passes, but when he does catch them, they're nearly always big plays. He tends to work downfield and has stopped catching any passes across the middle. In three seasons, Jackson has averaged 57 catches, 1,041 yards, 18.3 yards a catch and 6 TDs over the same span three-year span as Fitzgerald.
"He's a good player. He's one of the top receivers in the NFL, like myself," Jackson said. "Of course, when it comes down to that. Yeah, but, money-wise or stats-wise I won't compare none of that stuff. I just take care what I've got to take care of."