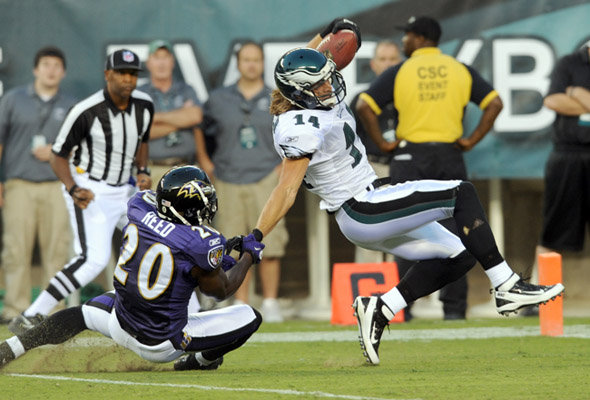 On Saturday it was announced that Jeremy Maclin will be ready to play come September 11th's afternoon game in St. Louis. Doctors were worried the wide receiver contracted lymphoma, but multiple tests showed Maclin was fine. Upon reporting to training camp, the former first round pick told reporters, "I can't wait to get back out there and just resume my normal life."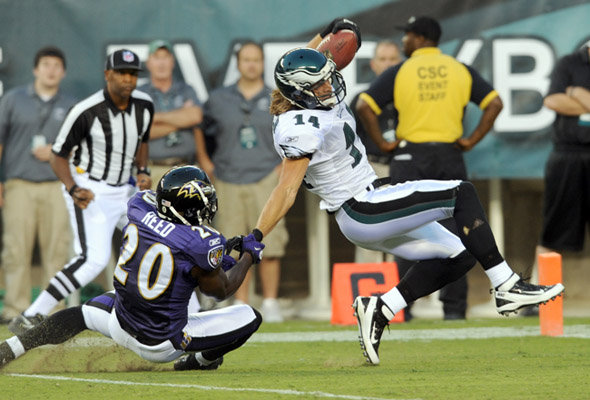 Maclin getting back to his normal life brings up questions about where Riley Cooper will fit into this deep Eagles' receiving core. In Thursday's loss to the Steelers, the Gator didn't have the same success he had seen a week prior. The 220-pound wide out caught one pass for 16 yards on the day. He was only targeted three times, which is one more than he had been a week earlier versus the Ravens.
Cooper's questionable game can most likely be credited to Pittsburgh's relentless defense that held the Eagles scoreless until just under four minutes in the final quarter. Pittsburgh's strong defensive front flushed Vick out of the pocket and made it near impossible for him to find the big wide receiver. Lock down coverage from Keenan Lewis and Ryan Clarke, both of which had interceptions, made Cooper a non-factor in Thursday night's embarrassment.
Tim Tebow's former roommate ran the 40 around 4.5 when he was selected in the 2010 Draft. He's got some sneaky speed which surprises corners and makes him capable of getting deep at times. At 6'3" Cooper has excellence size, which is one of the reasons I think Andy Reid should have a place for him in his red zone packages come September. Having a guy who can work in tight areas and use his size to find space is something any coach would be crazy not take advantage of.
The big guy is currently filling the fourth receiver spot on Philadelphia's depth chart, but when Steve Smith returns from surgery,
where will it leave him?
It is going to be tough for wide receivers coach David Culley to figure out where the Oklahoma native can be utilized in Philly's West Coast offense. On one-hand Smith is an established All-Pro wide receiver, but Cooper has a tremendous upside because of his size. It's hard to take away a guy's spot after Cooper displayed his size advantage by out jumping Pro Bowl safety Ed Reed for a near 50-yard gain.
Versatile diminutive wide receiver Chad Hall makes the decision even tougher, but I still believe Cooper is the front runner for the remaining fifth wide receiver spot. The Eagles already have a lot of consistency with Desean, Maclin and Avant, having a big receiver on the field will make Philly's offense even more consistent.