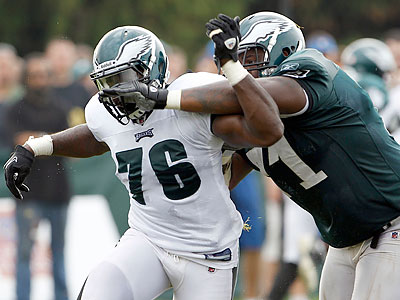 The Eagles have to make a cut of their roster by tomorrow afternoon and it won't be very difficult, but in a week they'll have to make some very tough decisions about the players they will keep on the defensive side of the ball. Here's a quick look at some of the decisions they will have to make.
Defensive Tackles – Cullen Jenkins, Mike Patterson, Antonio Dixon, Trevor Laws (4) – The Eagles will have some tough decisions to make at the defensive tackle spot. They will have to make one of the toughest decisions during this cut down period on Trevor Laws, Anthony Hargrove or Derrick Landri. I think it's going to be very difficult to release Laws because he showed tremendous improvement a year ago.
Defensive Ends – Trent Cole, Jason Babin, Darryl Tapp, Daniel Te'o Nesheim, Phillip Hunt (5) – Many think that the battle for the last defensive end position will be between Te'o Nesheim and Hunt, but I predict that the Eagles will release veteran defensive end Juqua Parker. He's been injured for much of training camp and he's 33 years old. I think he can still play but the Eagles usually take the side of youth. Te'o Nesheim is a lock because he also works inside at defensive tackle, plus he was a 3rd round pick in 2010. Hunt has a tremendous upside with his explosiveness upfield on the snap of the ball. He could become a more complete player by getting stronger.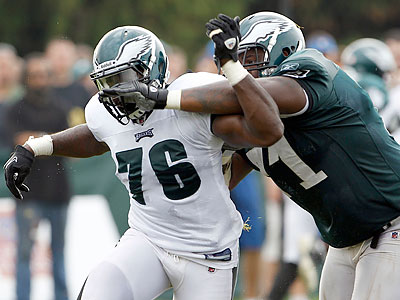 Linebackers – Jamar Chaney, Casey Matthews, Moise Fokou, Keenan Clayton, Brian Rolle, Akeem Jordan (6) – I think the Birds will hang
onto Akeem Jordan because he's the only veteran backup linebacker with experience as a starter, plus he can play Sam, Mike or Will. I don't think Greg Lloyd is the Eagles type of linebacker because he doesn't have the big time speed of the others.
Cornerbacks – Asante Samuel, Nmandi Asomugha, Dominique Rodgers-Cromartie, Curtis Marsh, Trevard Lindley, Brandon Hughes (6) –
The Birds love their three Pro Bowl cornerbacks, but they are also in love with their talented young cornerbacks, Marsh, Lindley and Hughes. I see them keeping six corners and trading Joselio Hanson, their current nickel back. Rolle and Clayton are linebackers/safeties
Safeties – Kurt Coleman, Nate Allen, Jarrad Page, Jaiquawn Jarrett (4) – I don't think the Birds are going to keep backup safety, Colt Anderson around because most kickoffs go out of the end zone. I could see them using backup cornerbacks Lindley and Hughes to to cover kicks and play backup safety roles on nickel. Keeping jackson around makes no sense to me because the guy has been hurt for about four years now.