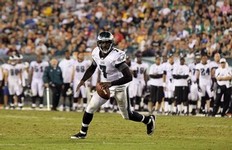 Eli
Nine days from now, the 2011 NFL regular season will kick off.
Kickoff weekend is always exciting, but this year is unlike any other.  The recent lockout created doubt among many fans, increasing the anticipation for meaningful football games.
Now that the lockout has been lifted and the "Back To Football" campaign is at full throttle, teams are being ranked and Super Bowl predictions are varied.
Heading in the final preseason weekend, this is my NFL Power Ranking.
Green Bay Packers:  It's a scary thought that the Super Bowl champs were one of the more injured teams in 2010.  If they can stay healthy, the Packers are a 14-15 win team.
New England Patriots: Even if they didn't add Chad Ochocinco, New England's offense wouldn't be a concern with the reigning league MVP.  The bigger question is: Did the Patriots do enough to improve their pass rush?
New Orleans Saints:  By addressing their running backs and interior D-line, the Saints may be the most balanced team in the league.
Pittsburgh Steelers: The Steelers are tough enough mentally to forget losing the Super Bowl.  One huge key to their success is keeping Troy Polamalu healthy after dealing with nagging injuries the past two seasons.
New York Jets: With no Darrelle Revis holdout or Santonio Holmes suspension, the Jets start 2011 completely focused on football.
Philadelphia Eagles: The Eagles were the most active team in free agency.  None of that matters if the offensive line can't keep the newly extended Michael Vick healthy.
Atlanta Falcons: The Falcons made a power move trading up to draft Julio Jones and signed Ray Edwards cheaper than expected.  Unfortunately, after Green Bay destroyed them in their house in the playoffs, no one will take them too seriously until they prove themselves in January.
Baltimore Ravens: After drafting two wideouts and trading for Lee Evans, I'm still no convinced Joe Flacco has enough weapons.
San Diego Chargers: After leading the NFL in offense and defense in 2010, the Chargers want to forget the fact they were only the 2nd team to do that and miss the playoffs.
Indianapolis Colts:  The healthier Peyton Manning's neck gets, the higher the Colts rise in the rankings.
Chicago Bears:  Da Bears made some nice additions, but like the Eagles, their O-line performance is key.
New York Giants:  The biggest problem for the Giants right now is dealing with injuries.
Dallas Cowboys: Jerry Jones spent most of his post lockout time clearing cap space.
Tampa Bay Buccaneers: Raheem Morris is putting together a very potent group.  The biggest negative for the Bucs is their youth.
Detroit Lions: The Lions might have the best defensive line in the league and they're still not healthy.  Speaking of health, if Matthew Stafford can stay healthy this could be a playoff team.  That's a huge IF…..
Houston Texans: Wade Phillips is putting together a defensive to finally complement the Texans potent offense.
St. Louis Rams:  St. Louis likely will be favored to make the playoffs, but that's mainly because they're in the NFC West.
Kansas City Chiefs:  Not sure how much better the Chiefs can get with Matt Cassel at QB.  A lot of their 2010 success had to do with playing a sub par AFC West.
Arizona Cardinals: Kevin Kolb to Larry Fitzgerald will be heard a lot, but Beanie Wells and Arizona's defense must step up.
Oakland Raiders: If Jason Campbell and Darren McFadden could stay healthy, the Raiders could take another step forward.  Their defensive front seven isn't half bad either.
Minnesota Vikings: Donovan McNabb's play action fake will finally work with Adrian Peterson as his halfback.
San Francisco 49ers: New head coach Jim Harbaugh could be the guy to finally get such a talented group of guys to gel as a team.  I won't be this year though.
Washington Redskins: The Redskins have been impressive during the preseason.  We'll see if John Beck can improve on his 0-4 record when the games count.
Cleveland Browns: Mike Holmgren has this team in right direction, but the road is very long.
Denver Broncos: Keep Kyle Orton around probably prevented Denver from being No. 32 on the list.
Miami Dolphins: Miami have a talented team, but until they finally replace Dan Marino they will struggle.
Seattle Seahawks: By naming Tavaris Jackson his starting QB, I'm convinced Pete Carroll primary goal is drafting Andrew Luck, Matt Barkley or Landry Jones.
Tennessee Titans: With all of the changes the Titans are going through, the last thing they could afford was Chris Johnson holding out.
Jacksonville Jaguars: Some of Jacksonville's off season acquisitions the past few years have them looking like the Redskins of the South.
Buffalo Bills: Buffalo added talent on defense, but their ceiling won't be very high as long as Ryan Fitzpatrick is their QB.
Carolina Panthers: New coach.  New face of the franchise.  The Panthers spent most of the money retaining young talent. With quite a few injured players returning, they can only get better.
Cincinnati Bengals: Coach is on the hot seat.  Franchise QB preferred retirement over returning.  Leads NFL in players arrested since 2000.  With this dysfunctional franchise likely to land the No. 1 pick, don't be surprised if Andrew Luck pulls an Eli Manning.
This Power Ranking will be updated weekly once the regular season has begun.
I'm sure there will be varying opinions and debates regarding who's ranked where.  The great thing is….FOOTBALL IS BACK!!!