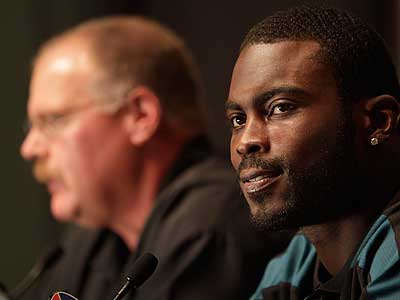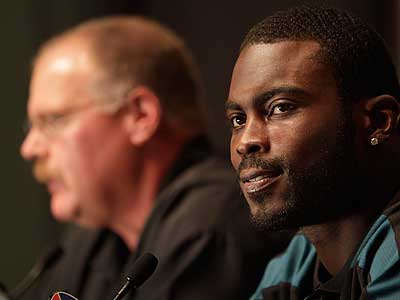 Michael Vick emphasized the fact that he didn't appreciate what he had when the Atlanta Falcons gave him a $100 million dollar contract. He made some major mistakes which led to his jail sentence and forced him to miss two NFL seasons. The league and the Philadelphia Eagles in particular gave him another chance.
"Don't take anything for granted," said Vick. "I did that at one point when I had the big contract in Atlanta, and I think that will definitely help me now in understanding what's important and how to move forward in my life and not make those mistakes and use the advice that I am getting correctly."
Eagles head coach Andy Reid, who was sitting on the stage with Vick as they fielded questions from the media, took the quarterback's comeback tale to another level.
"This is a great story all the way through," said Reid. "This is really what America is all about — a second chance. And Mike took full advantage of that. And when he had the opportunity to start in the National Football League, he again took an opportunity there and turned it into this."
They had a serious love fest in front of us all, despite the fact that the brilliant head coach may have created a trap for his quarterback by deciding to change offensive line coaches this off season. His decision to let his offensive line coach become his defensive coordinator, so that his new offensive line coach would be creating mayhem in front of his $100 million dollar quarterback at the time when they've got enough weapons to score over 30 points a game, doesn't make sense.
Now the quarterback doesn't set his feet any more when he throws the football behind the incompetent offensive line because he doesn't trust them and rightfully so.
Now Reid's new rookie defensive coordinator, who has a defense stocked with more talent than any of the previous Eagles defenses, must figure out what he's doing, plus how to properly game plan against offensive coordinators with decades of experience and how to call the defenses in the heat of the action when you have only seconds to decide one of fifty defenses to call, as Reid and Vick try to capture the elusive Lombardi Trophy.
Nobody could look me in the eye and tell me that putting a rookie defensive coordinator in charge of this talented group of defenders is the best way of winning a Super Bowl this year. You can't stress the importance of having Jim Johnson for years as the team's defensive coordinator then put a rookie in the job and try to pretend that it's no big deal.
In addition, I wonder if Howard Mudd's goal is to help this team win a Super Bowl this year or does he just want to be able to say that after three years I made the Eagles offensive line better, despite the fact that I blew Reid and Vick's best chance to win a Super Bowl in 2011.
Don't tell me putting two rookies on the starting offensive line after twenty practices is the way to give this team the best chance of winning a Super Bowl this year. I agree that the Eagles may have a better offensive line in 2013 or 2014, but it doesn't give them the best chance of having a good offensive line in 2011-12.
"Nothing would make me happier than to put a ring on this guy's finger right next to me," Vick said with Reid sitting next to him, "and mine as well. That's my focus. That's what I'm setting out to do, and that's what I'm going to rile this team up to do."
Sadly, Reid's coaching decisions and the elongated NFL lockout may have destroyed all the chances of the Eagles winning this season's Super Bowl months before yesterday's love fest began.