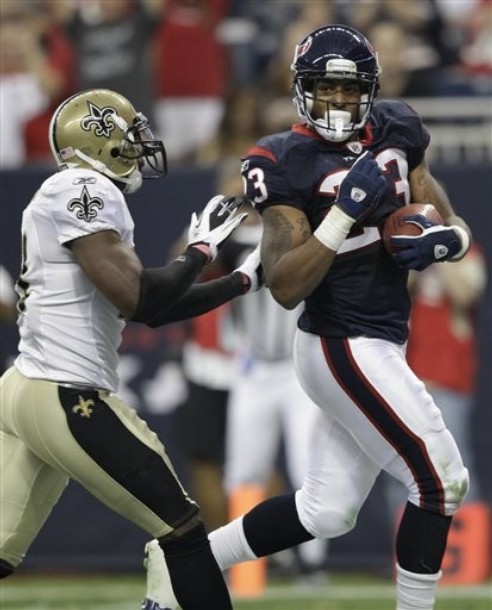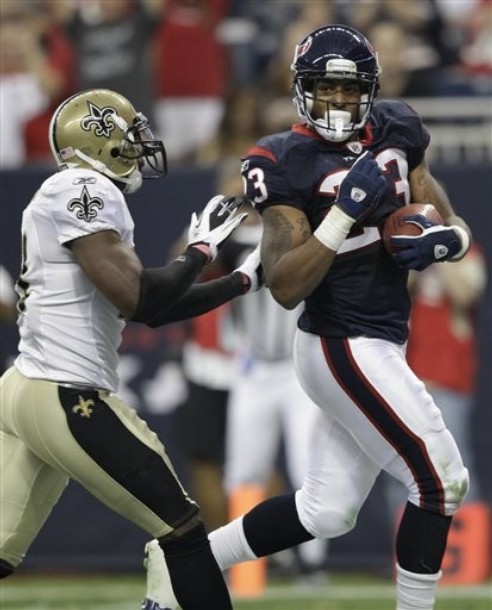 Regular readers of this site know that we don't usually make a habit of talking about the Houston Texans depth chart. But, I know a lot of you play fantasy football and this is important news, as Arian Foster has been going in the top three (if not first overall) in tons of drafts.
Foster says he's fine and that he'll be ready for the season, but ESPN medical analyst Michael Kaplan took a gander at the MRI that Foster tweeted recently, and didn't like what he saw. He says that he's "very unlikely" to be a go for Week 1.
"He's torn some of the muscle fibers, we'll call it Grade 1 to 2," said Kaplan. "There's a fair amount of swelling and bleeding on the MRI, so this is real. … It's gonna be a couple weeks at least. If you get him back too soon, he's at a high risk of re-rupture. I think they're gonna go a little slow with him."
I don't think this will be a major problem this year for Foster, but it could be if they rush him back. Behind him on the depth chart is something I wouldn't mess with. Right now, Derrick Ward is the guy behind him as he holds off Ben Tate. But, Gary Kubiak didn't sound all that enthused by it. Steve Slaton has been dealing with his own hamstring in camp and has been the subject of trade talks. Actually, the whole backfield has been banged up at one point or another this training camp. It's dangerous running for the Texans apparently!
So yeah, after Foster, avoid the Texans. Those backups have "split time" written all over them.
I talk more fantasy football on Facebook at the Fantasy Football Advice page if you're interested. No pressure and pllleeeeease no more "I've got three minutes to get my lineup in, who would you start, give me a detailed explanation why and I need it right away" like last year.
UPDATE: John Clayton isn't a doctor, please keep that in mind. But he says it could be a 3-4 week injury.
"It does look like it's going to be a 3-4 week injury," said Clayton, referring to the MRI. "The pictures don't lie." ….even though I'm not a doctor. Was that part of the quote cut off?